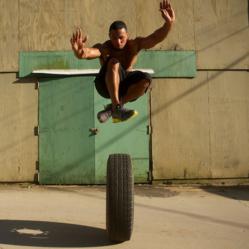 You'll gain 3-5 inches your first 2 weeks, give me 12 weeks+, and I'll have you dunking in no time.
(PRWEB) January 24, 2013
Brian Jacob, CEO of LexisHealth recently wrote about Brandon Todd and described their new FlytRight app. The FlytRight App is an athletic body transformation workout program. Originally created by Brandon "5'5 Dunker" Todd, to be able to dunk and teach others to make into higher level of sports. Whether starting squad in high school, or into a college program with a scholarship. The workout transformed Brandon from scrawny 120 lbs to a solid & strong 200 lbs. The training can be used to gain an advantage in any sport. The app is available in the app store for free, with additional paid content. Here is the download link: https://itunes.apple.com/us/app/flytright/id561882595?ls=1&mt=8aaa
"Most people will dunk in 10-16 weeks," states Brandon, but FlytRight is a 22 week program in total. 2 weeks to get started, gaining 2-5 inches. Basic is the next 4 weeks, Intermediate another 4 weeks, and advanced with 6 weeks. There is a maintenance program that's another 6 weeks that gets cycled. 6 weeks on, 2 weeks off, 6 weeks on and so forth.
Brandon Todd (aka 5'5 Dunker) was a four year starter on Cambridge High school (CHS) Basketball team, and a breakout star at Muskingum College, Ohio. He is known for having a 44 in vertical, and dunked his first basketball at the age of 13 at only 5'2. Watch him in action.
A hometown hero to many who has played along, and faced the famous Lebron James on more than 7 occasions. Brandon Todd lost the illustrious title of Mr Basketball to Lebron James in his senior year of High School coming in as the other finalist. Both Brandon Todd & Lebron James were first team all-Ohio Division 2 selections together for 2001-02, and 2002-03. He became the second All-Time leading scorer in school history with 1,447 pts. (1999-2003) He was captain of the first team and an all-star that season in the OVAC. More information can be found on his wiki page.
Brandon Todd has been focusing on bringing his vertical explosion circuit training to the masses. Throughout this storied career, the 5'5 Todd took it upon himself to learn all the strength, endurance, circuit training exercises that could make a difference in his vertical. He has had a fitness program on his personal website, http://www.brandontodd.tv, and has been teaching 10′s of thousands of people his training techniques.
Brandon Todd transformed his body over the course of a few years documenting the whole transformation. He was able to gain over 80 lbs of muscle, and increase that vertical through college, and maintain under 5% body fat. He is in the process of authoring a book on the transformation and all the work that went into it.
Brandon states: "I've had the privilege of playing high school and college basketball. Played with many greats that are now in the NBA like Lebron James, Kevin Martin, Omni Smith, Danny Gibson and many others. Made 1st team all-Ohio alongside Lebron James. That doesn't happen by listening to the naysayers." He currently trains many athletes that play in the NBA, NFL, and in other professional sport arenas. He's had people look at him and laugh, and then applaud him when he was the leading scorer dunking on his opponents. Brandon goes on to say "I've done all these things not only for myself, but for all of you that have been counted out, been laughed at, been picked last!" Brandon focuses his energy on training athletes to first believe in themselves, and then to modify their athleticism.