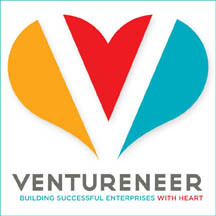 Doing more with less is almost a mantra these days. Brandraising™ is a way for non profits to use resources more effectively; in other words, it fills the bill: a way to do more with less. -- Geri Stengel, President, Ventureneer
New York, NY (Vocus) February 11, 2010
Brandraising™ is, at its core, an approach to communicating designed to help non profits get the most out of their limited resources.
"Specifically, Brandraising™ shows how non profit concepts like 'vision' and 'mission' are connected to marketing and branding concepts like 'positioning' and 'messaging'. It shows how these elements (which are often developed in a vacuum or ignored entirely) can boost fundraising, outreach and advocacy work when used well in day-to-day communications channels (for instance, online or at events). It's a primer a fundraiser can use to understand other aspects of communications they might be less comfortable with (for instance, where Twitter fits in)," according to Sarah Durham, Principal + Founder of Big Duck, author of Brandraising: How Non profits Raise Visibility and Money through Smart Communication.
Durham will be teaching a free Ventureneer webinar, Brandraising™: One Organization, Many Channels, from 2 to 3 p.m. ET on Thursday, February 25.
Brandraising™ is a holistic approach to communications that involves everyone within the organization—board, staff leadership, volunteers, program staff and in some cases funders and donors. It brings the best practices from for-profit strategic communications, such as positioning and personality, to the non profit sector.
This free webinar will explain the principles of Brandraising™ and how non profit organizations can apply these principles to make better use of resources.
"Doing more with less is almost a mantra these days," says Geri Stengel, founder of Ventureneer. "Brandraising™ is a way for non profits to use resources more effectively; in other words, it fills the bill: a way to do more with less."
Durham founded Big Duck in 1994 and has been working with non profits of all sizes since then to help them communicate more effectively. For over a decade, Big Duck has studied best-practices from the non profit sector and the marketing and communications worlds. Through strategic and creative work for clients, they have developed and tested ways to apply these best practices.
The webinar will be valuable to non profit leaders and staff who are involved in external or internal communication, fundraising, branding, or development.
For more information about the webinar or to register, visit Ventureneer.
About Geri Stengel
Geri is founder of Ventureneer, an online education and peer support service. An adjunct professor at The New School, she honed her online experience at companies like Dow Jones and Physicians' Online. Geri co-founded the Women's Leadership Exchange and is president of Stengel Solutions, a consulting service for social-impact organizations.
About Ventureneer
Ventureneer.com provides non profit and small business advice as well as entrepreneurial and non profit training through a new approach to learning: a blend of traditional, formal instruction with informal, peer learning that takes advantage of Web 2.0 technology to capture and share knowledge. Ventureneer's customized blogs, virtual classes, peer-to-peer learning, coaching, web events and articles help entrepreneurs make faster, better decisions for their enterprises.
# # #