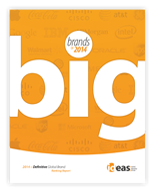 Naperville, IL (PRWEB) May 20, 2015
The release of the 2014 Definitive Global Brand Ranking Report is announced by its publisher, IDeas BIG (brand identity group). The report is the much anticipated second annual edition, and is available for download on the IDeas BIG website.
Compiling rankings from the top four brand lists—Brandirectory, Millward Brown BrandZ, Interbrand, and Forbes—the team at IDeas BIG analyzed rankings and values, creating an index to remove bias and to build the one true brand ranking. The report is available for free download here: http://www.ideasbig.com/branding-resources/2014-definitive-global-brand-ranking-report/.
Features of the report include the following:

Top 100 Global Brands based on the IDeas BIG Brand Index
Top 20 Business-to-Business (B2B) Brands
"What Factors Make a Strong Brand?" Details on the criteria for brand valuation
"After realizing great interest in the first (2013) report, we decided that it was time to release a second annual brand ranking," said Neil Brown, Chief Branding Officer, IDeas BIG. "This effort continues to be worthwhile as the well known rankings have so many biases, even omissions."
Interested parties are welcome to download the 2014 Definitive Global Brand Ranking Report here.
About IDeas BIG
IDeas BIG (brand identity group) is a Chicago (Naperville) based branding consultancy that specializes in logos and visual identity, brand name development and branding strategy for global corporations and start-ups. IDeas BIG has been recognized with over 50 national awards for creative excellence and marketing effectiveness. For more information, contact IDeas BIG at 630.868.5061 or visit http://www.IDeasBIG.com.