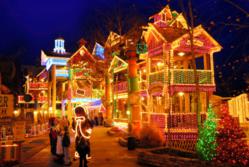 Starting November 1st, 2011 an Ozark Mountain Christmas brings treats to all the senses for visitors to Branson
Branson, MO (PRWEB) October 26, 2011
Branson Christmas celebrations are growing more and more popular each year and 2011 looks to be no exception. Starting November 1st, 2011 an Ozark Mountain Christmas brings treats to all the senses for visitors to Branson.
Branson Christmas 2011 brings the holidays to life with a thoughtful mix of the best entertainment, quality activities and true Christmas spirit that makes family vacations unforgettable. Now in its 24th season, the holiday season in the Ozark Mountains transforms Branson Missouri into a spectacular wonderland, filled with lights, displays, rides, shows and everything families look for to make lasting memories.
Holiday spirit abounds with fabulous productions and popular entertainers that are sure to bring joy and excitement to those who come from near and far to celebrate with a Branson Christmas. During the holiday season, stars from all over the country come to take part in the celebrations. Star studded entertainment includes performances by greats like Tony Orlando, Andy Williams and the Lennon Sisters. Other Branson Christmas experiences can include caroling with family performers such as the Hughes Brothers, Baldknobbers and the Presleys. The world famous Oak Ridge Boys will have limited engagements in Branson, along with The Osmonds celebrating Christmas Broadway style.
Much of the Christmas spirit is geared towards the young and the young at heart. Kirby VanBurch's Christmas Spectacular is sure to amaze. Kids will also love one of the centerpieces of the 2011 Branson Christmas celebration, Silver Dollar City's Old Time Christmas. It is a celebration like no other with holiday themed multimedia shows and millions of dazzling holiday lights that sparkle throughout this old-west themed park. Families will enjoy participating in the Holiday Light Parade and Silver Dollar City's interactive musical -- "Frosty". Of course there are many thrilling rides in the park all decked out for the holidays and ready to bring chills and thrills to all visitors.
For guests who prefer shopping for Christmas, Santa Claus will delight crowds at Kringles Krossing where families will find a variety of unique, handmade holiday gifts. With over one hundred craftsmen displaying their wares, along with food vendors presenting holiday meals that include a delectable prime rib buffet, turkey dinners, Christmas cookies and more every appetite will be satiated.
During the holidays Branson is infused with holiday spirit around every corner. This is most evident in the holiday light shows. When Branson Christmas 2011 kicks off on November 1st, one of the main attractions will be the Trail of Lights that blaze along a winding drive-through animation through the quaint Shepherd of the Hills village. Guests travel through themed countries with holiday music playing and lovable characters roaming about inviting guests to peek inside their abodes. Every building is a glow with multi-colored Christmas lights as are other displays included The Nativity, Jingle Bell Jungle and Mele Kalikmaka. As part of the grand finale, a ride in a glass elevator high above the Shepherd of the Hills village gives all a bids eye view of the lights and all the festivities of a Branson Christmas celebration.
Branson Christmas 2011 celebration offers theme parks, hundreds of live shows, shopping, family fun and activities for all to enjoy, with most starting on November 1st. For further information on Christmas festivities call the Branson Chamber of Commerce. For lodging arrangements, Thousand Hills Resort has been providing Branson cabins and condos in the heart of Branson for nearly 20 years. An experienced staff is ready and willing to provide guests a warm welcome for an Ozark Mountain Christmas 2011.
# # #