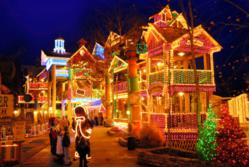 One of the top 5 Holiday Events in the Country!
Branson, MO (PRWEB) December 02, 2011
On the eve of the town's 100th birthday, Branson Christmas celebrations have been getting some more national attention. Branson has long been known as "America's Home for Christmas", and according to the staff at Thousand Hills Resort, that reputation is only growing with several local Christmas celebrations gaining world-wide recognition.
The crown jewel and most instantly recognizable Branson Christmas celebration takes place at Silver Dollar City Theme Park. "An Old Time Christmas" transforms this 1880's themed amusement park into a magical blend of old Christmas traditions and modern technical achievements that ABC's Good Morning America called "One of the top 5 Holiday Events in the Country!" It was also recently recognized by the Travel Channel as "The Most Illuminated Amusement Park on Earth", and for good reason. Each year Silver Dollar City lines the streets, shops, and woods around the park with 4 million Christmas lights. A large number of these lights are used in the elaborate, 5 story tall, Special Effects Christmas Tree that sparkles in time with popular Christmas Carols in a state-of-the-art light & sound presentation. Holiday light enthusiasts also won't want to miss the twice daily Holiday Lights Parade which features animated characters and over 100,000 lights of its own. Tradition wasn't forgotten for the technology however, as the park features over 1000 decorated Christmas Trees, daily productions of "A Dickens' Christmas Carol", "The Living Nativity", and dozens of handmade food and craft shops providing the sights, sounds and smells of a traditional American Christmas.
Silver Dollar city isn't the only holiday tradition honored in Branson, so guests will want to be sure to check out some of the other Branson Christmas Lights shows that have gained attention. The first of these is the "Branson Area Festival of Lights". This drive-through lights attraction was part of the reason Branson, Missouri was named a "Top 10 Destination for Holiday Lights" by Yahoo Travel. Yahoo cited the 175 light displays surrounding a mile long drive as a must-see holiday light show.
Another drive-through Branson Christmas light display turning heads is the Trail of lights at the historic Shepherd of the Hills Homestead. The trail features nearly 4 million lights and life-sized animated displays of holiday traditions stretching throughout the 160 acre setting. As a bonus, each Trail ticket includes a ride to the top of the 230 foot Inspiration Tower. From there visitors can get a bird's eye view of the Trail of Lights and all the surroundings. According to Yahoo Travel, this view is a "Don't miss!"
The Light Shows are gaining national attention, but they are just a small portion of how a Branson Missouri Christmas is celebrated. Each of the hundreds of music shows in Branson feature a Christmas theme around the holidays, the shopping malls including Tanger Outlet Center and Branson Landing offer festive shopping experiences and special prices throughout the season, and area restaurants feature any possible combination of holiday fare that you could ask for. Visitors are encouraged to stay in Branson Cabins for the full holiday experience, with fireplaces and room for family to gather before and after going out and seeing the sights. The cabins are available for nightly rentals 365 days a year from Thousand Hills Resort. The Branson Christmas seasons runs through January 2nd, 2012.
Thousand Hills Resort has been a leading provider of Branson cabins and condos since 1991. Locally owned and staffed, Thousand Hills prides itself on location, guest satisfaction, and value. Cabins and condos are available for nightly rental online at http://www.thousandhills.com.
# # #