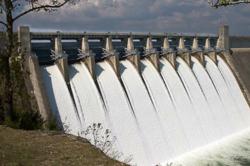 The average tourist will have no idea that high water was ever even a concern
Branson, MO (PRWEB) May 28, 2011
The news from Branson, Missouri since April's flooding has been all about water levels with a focus on the water levels at Table Rock Dam and its direct feed into Lake Taneycomo. Now, in the last week of May, the image of Branson, Table Rock Dam and Lake Taneycomo is primarily one of a well-organized, well controlled situation with lots of honest information for the general public and residents. According to city officials the majority of the flood damage was contained to a few localized residential areas and the average tourist will have no idea that high water was ever even a concern.
According to Greg Oller with the Army Corps of Engineers Table Rock Dam will continue to release water at a rate of 53,600 cubic feet per second until Saturday May 28th, and while provisos that logically warn that continued progress is based on rainfall remaining within acceptable bounds, the news out of Branson is good. Currently, Highway 165/265 which has been closed since early May is scheduled to open by May twenty seventh. In addition, the Branson Chamber os businesses in Branson, including those in Branson Landing near the stunning waters of Lake Taneycomo, are mostly open for business. Information, including actual charts from the Army Corps of Engineers are available to individuals through links on various official Branson web pages.
Many Table Rock Lake and Lake Taneycomo tourist opportunities for fishing and camping are partially open, or open in limited capacities due to the high water on the lakes themselves. However as the water continues to drop more and more each day, once inaccessible docks are opening. Many other marinas are open for full business this Memorial Day and have instituted boat shuttles to move people to docks that are unharmed by the high waters but merely inaccessible by land due to flooded sidealks and entrance ramps.
Reports indicating all the processes and procedures that are going right in Branson, Missouri are as important as the dramatic photographs of all the water that has been in the area since April. Taney county and Missouri continue to provide information to their residents and others concerning continued efforts to manage water levels and information about FEMA and other opportunities for seeking governmental assistance for those significantly impacted by April's event. As it has been for the past 50 years, Branson continues to be a safe and exciting tourist destination.
###