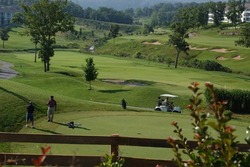 Branson, Mo (PRWEB) October 22, 2008
Thousand Hills Golf Resort is pleased to welcome PGA Golf Professional Dan Davis as the newest member of its management team! Dan will oversee sales, marketing and operations of the Thousand Hills golf course and pro shop, and will also serve on the Branson Golf Council to promote Branson as a premier golf destination.
Originally from Raymore, MO, Dan played college golf at Penn Valley Community College, where he qualified for nationals both years. He also attended New Mexico State University where he completed the National Golf Management Program and was vice president of the PGMA, the student run organization of the PGM.
Prior to joining Thousand Hills Golf Course, Dan was an assistant at Long View Golf Course in Kansas City, MO and Lake Manawa Country Club in Lake Manawa, IA, and head pro for the public course in Nevada, MO. Most recently, Dan took on the challenge of opening the new Spring Creek Golf Course in Seneca, KS, which, in just three years, has become one of the top public courses in Northeastern Kansas.
Dan looks forward to joining the team at Thousand Hills, and has set initial goals of enhancing the Branson golf experience at Thousand Hills while attracting more golfers to both Thousand Hills and the Branson area. Joining Dan as new members of the Thousand Hills family are his wife Whitney, and their three children, Jessica, Haley and Dylan.
To meet Dan, and the rest of the Thousand Hills Resort Family, or for golf, Branson condo and cabin rental, and Branson real estate, call 1-800-864-4145. In addition to our beautiful 18-hole public golf course, Thousand Hills also offers nightly condo and log cabin rentals ranging in size from Suites to 4 bedrooms, making them perfect for a romantic retreat, a family getaway, or a golf or business group. You can also learn more by visiting http://www.thousandhills.com Log on today, and let Thousand Hills make your next Branson vacation one to remember!
###