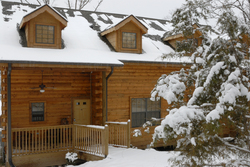 Branson, MO (PRWEB) December 29, 2009
There are lots of ways to ring in a new year, and on December 31st Branson, Missouri will be showcasing a number of different celebrations. From a quiet evening with friends in a Branson condo to ringing in the new year with a Branson celebrity all options are covered.
Branson is known as the home of American tradition, but the Incredible Acrobats of China want to show Branson citizens and guests how the Chinese New Year is celebrated. Festivities start at 9 pm, with sparkling juice, traditional Chinese hor d'oeuvers, and much more! Enjoy one of the most energetic shows in town followed by a countdown and balloon drop for 2010.
Another Branson entertainer wants to bring a little magic to New Year's Eve. Kirby VanBurch Theater is hosting a spectacular New Year's Eve Show at 9 pm. Not only does the show include the illusions and magic Kirby is famous for, all of his guests will also receive party favors, box dinners and non-alcoholic champagne. The evening will be capped off with a magical balloon drop at the stroke of midnight.
Numerous other shows in Branson such as the Haygoods and Jim Stafford are hosting New Year's Eve celebrations to ring in the New Year with style. However some guests may prefer a more relaxing evening with friends. One of the many Branson condo would make an ideal getaway. The fully furnished condos feature everything needed to host the perfect get-together of any size. Friends and family can relax, eat, drink & play games while watching the ball drop in Times Square.
From culture, to comedy, to magic the people of Branson are ringing in 2010 with style. Guests will want to make plans today while tickets are still available for these one of a kind celebrations. Reserve a condo today and make plans to have a Happy New Year, Branson Style!
###