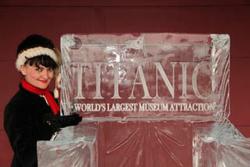 From February 3 through February 5th, visitors to Branson can see the world's best carvers compete for a record prize purse
Branson, Missouri (PRWEB) January 19, 2012
Ice carving fans and competitors will want to book an early February trip to Branson, Missouri, when the Titanic Museum in Branson, Missouri hosts the 2012 National Ice Carving Association Championships. From February 3 through February 5th, visitors to Branson can see the world's best carvers compete for a record prize purse.
The NICA (National Ice Carving Association) is an organization dedicated to nurturing and promoting the art forms of ice sculpting and carving, and educating the public about this time honored art form. The NICA also prides itself on bring together and networking the best and brightest ice sculptors in the world.
Towards this end, in 2012 the NICA championships are being supplied with a record setting prize purse of over $25,000. Only the top 30 carvers in the world will be allowed to compete in 2 divisions, professional and master. The Professional carver division consists of 2 days with day 1 giving competitors 3 hours to carve one ice block. Day 2 will give the competitors 4 hours to carve 2 blocks. The professional carver with the highest 2 day combined score will be titled the "National Professional Event Winner".
The crown jewel of the competition will be the Master Carver division, where spectators are sure to see unbelievable works of art. Day one for the Master carvers will have them sculpt 3 ice blocks in 6 hours time. On the 2nd day the carvers must do their best with 1 block of ice in 3 hours time. The sculptor with the highest two day total will be crowned the NICA Nation Champion, in addition to taking home thousands of dollars in prize money.
A final fan favorite will be the national speed carving competition—this competition is open to 8 entrants, who will be limited to 3 tools, 15 minutes, and 1 block of ice to make the most artistic and impressive sculpture possible. Spectators will not want to miss the ice flying from this competition.
The Titanic Museum in Branson has held ice carvings for several years now, and prides itself on being a patron of the ice sculpting art. Billed as the World's Largest Titanic Museum Attraction, this exhibit features hundreds of Titanic artifacts, stories, displays and interactive experiences that are unlike any found elsewhere in the world. It makes an ideal destination for those who are fascinated about the history of the world's most famous ship, or those who are just hoping to find out more. Museum admission is not required to view the ice sculpture competition which takes place just outside the museum February 3 – 5, 2012.
Branson visitors who are looking for lodging near the National Ice Carving Association Championships will want to consider Thousand Hills Resort, just a few blocks away from the Branson Titanic Museum. For nearly 20 years, Thousand Hills has been a leading lodging provider of condos, Branson cabins, and Table Rock Lake condos for nightly rental. For more information on their lodging options, or on Branson Missouri activities visit http://www.thousandhills.com
###