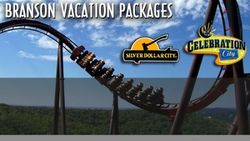 Branson, MO (PRWEB) July 2, 2008
As the weather turns warm during the summer months, tour groups, families, and people of all ages visit the town of Branson, Missouri to take advantage of the beautiful Branson weather. The hotels in Branson are expected to be as busy as ever, despite the slowing economy and rising gas prices. Many of the Branson attractions that are closed during the winter months are at their full strength by the time summer comes around.
Silver Dollar City, located just outside of Branson, MO is no exception. This family fun theme park gives visitors the feeling that they are traveling back in time to the late 1800's. With their historical clothing and vast knowledge of the settler's lifestyle, the staff of Silver Dollar City provides a unique look back into a simpler time. Silver Dollar City has always been one of the most popular attractions in Branson, MO and this summer is expected to be a very good one for the popular tourist attraction. The Silver Dollar City family also includes Celebration City, a roller coaster based theme park, and White Water, a unique water park adventure that is very popular during the summer.
The summer months also see an influx of Branson shows. With the visitors to the town out in full force, the already stellar shows step up their game even more. Branson show tickets typically sell out much quicker during this time of the year, due to the large increase in tourism and vacation travel to the southwestern Missouri city. Branson shows have always been a hit with tourists, especially during the summer when all of the outdoor venues are readily available to house shows and concerts.
More information on Branson, Missouri vacation packages, including Branson vacation rentals, discount show tickets and Branson golf can be found by visiting http://www.Branson.Net. This Branson based website offers information and discounts on a variety of Branson attractions and shows.
###