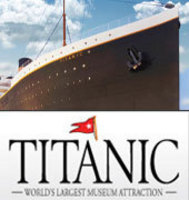 Titanic - The Legend Continues.
Branson, MO (PRWEB) June 4, 2008
The list of Branson shows is growing by leaps and bounds. Branson, MO has long been hailed as a Mecca for those who desire to see quality, wholesome entertainment. Keeping up with these traditions, Branson, Missouri is proud to introduce new additions to their lineup of, already stellar, shows and attractions. Many of the new additions to the Branson entertainment lineup have had illustrious tenures at other locations around the country such as the Sight and Sound Theatre, which brings over 30 years of entertainment to the lineup of popular Branson shows.
"Noah the Musical" is the most accurate depiction of the biblical story of Noah in theatres and playhouses anywhere. One of the many bible based productions put on by the Sight and Sound Theatre, the show features live animals and an amazing four story high replica of Noah's ark. This dramatic show is perfect for viewers of all ages. Laugh, cry and be amazed as you follow the story of Noah, the man in charge of safeguarding the last family left on earth as well as two of every kind of animal. To say his experiences were stressful would be an understatement! This spectacular show is a must see event during your Branson, Missouri vacation.
Another one of the Branson attractions gaining national recognition is an interactive museum experience entitled "Titanic - The Legend Continues." The museum contains more than 17,000 square feet of artifacts and antiques that have never before been seen. Treasures from the ship that was once believed to be "unsinkable" are on display. The interactive experience includes a guided tour through the replica ship with stops at the "Grand Staircase", boiler room, and the radio room. A replica iceberg is located just outside of the museum in the exact location where it struck the luxurious cruise ship on that fateful winter night. Visitors are given a "boarding pass" that contains the name of an actual Titanic passenger, and throughout the tour, they can live the experiences of their individual character. The tour ends at the memorial wall which contains the names of all who were lost during the tragedy. By far the largest exhibit in all of Branson, it makes a popular addition to your family's Branson vacation packages.
Tickets to these events, as well as many others are available through Branson.net. This Branson based website offers discount Branson show tickets and other vacation packages that will make your stay in Branson, Missouri as entertaining as possible. For more information, visit http://www.Branson.Net or call toll free at 1-800-985-6841.
###