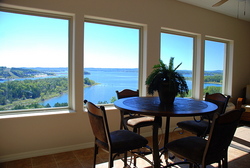 Branson, MO (PRWEB) March 4, 2008
Thanks to Thousand Hills Resort's newest development, visitors to Branson no longer have to choose between lake views or city center convenience. The Majestic at Table Rock offers the newest Branson lake condos for rent on Table Rock Lake only a short distance from the heart of Branson's entertainment district.
Thousand Hills has been providing guests golf view Branson Condos and log cabins for over 15 years. For 2008 they are pleased to announce their newest rental opportunity, the Majestic at Table Rock. These brand new lake front condos range in size from two bedroom, two bath condos perfect for two couples up to four bedroom, four bath condos ideal for a large family getaway or reunion of friends.
Guests of The Majestic can look forward to luxurious Branson condo rentals with furnishings that include a Jacuzzi tub in the master bath, fully furnished and equipped kitchens and dining rooms, a private patio or deck, cable TV & DVD player and free high speed internet access. These condos offer a relaxing and affordable alternative to Branson hotels.
Previously lake front condos in Branson were only offered in locations far from the center of Branson leading to long trips for guests wanting to take in one of Branson's famed shows. The Majestic at Table Rock is unique in its location--just off Highway 265, mere minutes from Branson's famed Highway 76 entertainment district. The Majestic provides an unparalleled experience of lake front living and mid-town convenience.
2008 brings the first year of unrivaled comfort, convenience and lake location with the Majestic at Table Rock. Branson visitors are encouraged to make reservations today, as Table Rock Lake condos are limited and will fill up quickly as the 2008 summer season approaches. Reservations can be made online at http://www.thousandhills.com or by calling the helpful front desk staff toll free at 877-262-0430.
###