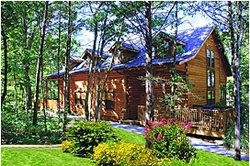 Branson, Mo (PRWEB) September 23, 2008
Based on tourist requests for information to Vacationfun.com, "America's leading source of free official travel information", Branson, MO has been ranked as the top destination for the first half of 2008. According to Vacationfun.com publisher John Hudak, "Branson's location and reputation as a value destination pushed it to the top of the list."
Amid threats of tough times for the tourism industry, Vacationfun.com experienced a 36 percent increase in visits to its site for the first 6 months of 2008, as compared to the same time a year ago. Hudak indicated that instead of totally foregoing their vacations, many Americans are instead discovering destinations and deals closer to home.
Of people who responded to a survey published in May by the Travel Industry Association, the largest percentage stated that they would react to rising gas prices by decreasing the driving distance to their vacation spot. "Branson fits the bill perfectly for what travelers need this year," said Hudak.
Along with being just a day drive from nearly half the nation's population, Branson also offers visitors a great vacation value. Compared to the average national daily hotel rate of $103, the rate for Branson hotels is just $75.90. The average show ticket in Branson runs just $29, as compared to an average of $140 per ticket in Las Vegas. In addition, the Chamber of Commerce for the Branson area also provides any visitor who presents at least $40 in gas receipts to one of their two Welcome Centers with a "Gas Buster" card worth $50 in local coupons.
In an added effort to attract visitors to the Branson area, Thousand Hills Golf Resort, one of the premier Branson lodging providers, has been offering lodging specials and resort packages to help guests receive the most fun for their vacation dollar. As an example, Thousand Hills is currently offering guests up to 20% off their stay by making a reservation of four or more nights. Thousand Hills has also partnered with local shows and attractions to provide guests the best value possible on their Branson vacation.
For more information on the great deals being offered by Thousand Hills, or any of Thousand Hills' luxury condo rentals or log cabin units, call 1-800-864-4145. Thousand Hills offers nightly condos and log cabins ranging in size from Suites to 4 bedrooms, making them perfect for a romantic retreat, a family getaway, or a reunion with an entire group. You can also learn more by visiting http://www.thousandhills.com. Log on today, and let Thousand Hills make your next Branson vacation one to remember.
###