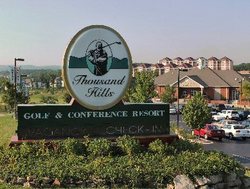 Branson, MO (PRWEB) October 26, 2007
Convention planners have a new option when considering where to hold their next event. The new Branson Convention Centered opened its doors in the summer of 2007 and is quickly helping earn Branson, Missouri a reputation as an ideal nationwide convention and meeting destination for groups and meetings of all sizes.
The Branson Convention Center offers over 220,000 square feet of meeting space in the heart of downtown Branson. The center offers a variety of meeting spaces including two large exhibition halls totaling 50,000 square feet and a 23,000 square foot ballroom. The convention center's downtown location allows meeting goers to spend their free time shopping or dining at Branson Landing just across the street or take a short trip to Branson's main entertainment district to partake in some of Branson's hundreds of live shows & attractions.
For events that need smaller venues there are several options in the area as well. Many area resorts offer meeting space and full event coordination and amenities. One example of this is Thousand Hills Golf Resort which is located in the center of Branson. Thousand Hill's meeting facilities include meeting rooms from 800 to 2,020 square feet, ideal for small to mid-size meetings and reunions close to area attractions.
There is more than just the variety of activities that make Branson an ideal meeting destination. Branson is situated in the heart of the Midwest so it is a central nationwide meeting location with easy road access. Branson also boasts of mild weather-milder summers and winters than many competing locations making the Branson area a viable year-round destination.
Meeting attendees and their families will have plenty to do in their off time as well. With hundreds of live shows, museums, theme parks and attractions Branson has long been known as a vacation destination. Most attractions are conveniently located in Branson's Entertainment District on the famous Highway 76 strip making it easy to access them from any meeting location.
In addition, Branson's long history as a vacation destination has resulted in over 18,000 lodging rooms--meaning every meeting attendee in Branson has ample choice in where to stay during their visit. Not only are there numerous traditional Branson hotels and motel rooms, there are also increasingly many upscale alternatives such as luxury log homes and fully furnished Branson condo rentals, such as those provided by Thousand Hills Resort. These heart of Branson amenities offer all the comfort of home close to the Convention Center and all shows and attractions.
All these factors add up to make Branson a viable meeting and convention destination for a meeting of any size and need. For more information on coordinating an event in Branson visit the Branson Chamber of Commerce, ExploreBranson.com or contact Thousand Hills http://www.thousandhills.com to coordinate your meeting or Branson lodging.
###