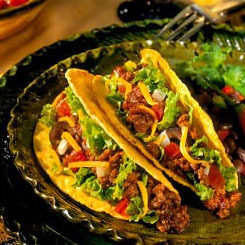 Branson, MO (PRWEB) June 18, 2008
For years, visitors to Branson, Missouri have been awed and star-struck thanks to the many attractions and shows that are available on nightly basis. The discount Branson show tickets left their wallets feeling satisfied. Well, now, thanks to a great influx of great dining experiences, visitors to Branson, MO can now find their appetites satisfied, no matter what their palette desires. While Branson has always been home to some of the most quality, all-American cuisine, many ethnic restaurants and bars are finding success in this vacation Mecca, usually dominated by down-home southern cooking.
If the spicy call of the southwest is beckons, visitors will be thrilled to find Cantina Laredo, an authentic Mexican style dining experience. The menu features daily fish specials as well as signature Mexican spices and sauces. Home to some of the most unique dishes of any restaurant of its type, Cantina Laredo is sure to please. Sip on one of their famous margaritas while you dine on "Camarones Escondidos", a plate consisting of shrimp stuffed chicken breasts, a definite favorite during Branson, Missouri vacations. Its location on Branson Landing will allow you to enjoy a relaxing evening on the patio that overlooks the lake.
If you are looking to relax with the family and enjoy some family style Italian cooking, make sure that you check out Mama Milano Italian restaurant. While their main offering is authentic Neapolitan cuisine, they also offer a variety of pizzas and pastas for the kids. New to Branson Landing this year, Mama Milano's offers up the best in Italian food that Branson has to offer.
After dinner, there is no shortage of authentic bars and pubs, to keep the nighttime entertainment going. Ernie Biggs features dueling pianos and classic sing along songs. You and your friends are sure to enjoy the entertainment at this famous bar. If being in a hometown environment is how you prefer to spend your nights out, consider Waxy O'Shea's Irish Pub. This authentic Irish pub features live music and authentic food, whether you choose to have a full meal or just a few late night snacks. The environment at Waxy O'Shea's will leave you feeling warm and welcome.
More information on the new restaurant openings in Branson, or information on Branson vacation packages can be found at by visiting http://www.Branson.net. This informational website on anything Branson related is a great resource for finding discount Branson tickets to shows and attractions.
###