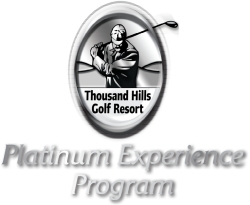 Branson, MO (PRWEB) August 2, 2009
The value of staying in premier Branson lodging just got even better! The Branson Platinum Experience at Thousand Hills Resort is proud to announce partnerships with the Mansion Theater, The Oak Ridge Boys Theater, The Branson Titanic Museum and more.
The Platinum Experience is a bonus from Thousand Hills Resort and their partners given to guests of the resort who stay for two or more nights in two bedroom or larger golf condos, Branson log cabins, and lake condos. The experience includes more than $300 in tickets to the most popular theaters in town, free food and drink at the best restaurants in the area, and many more complimentary admissions, gifts and more from area businesses as a thank you for choosing Thousand Hills for your vacation.
Thousand Hills is always looking for partners to join the Platinum Experience to ensure guests receive the highest value for their stay. Some of the newest Platinum experience partners include the following:
◦The Mansion Theater, home of Peter Pan in Branson. Platinum Experience guests can receive a ticket to see Cathy Rigbey bring the classic Broadway show to life or choose to see the Red Skelton Tribue Show, a tribute and recreation of America's Classic Comedian.
◦The Oak Ridge Boys theater is the home of Grammy Award winning artists, the Oak Ridge Boys. The Platinum Experience allows visitors to have a ticket to see them live, in concert at no charge. Also guests will not want to miss seing Dalena Ditto, Branson's Top Female Entertainer of the Year in 2008, in concert.
◦For Three Years in a row vacationers have flocked to Branson from all over the world to see the World's larges Titanic museum. Featuring exhibits, artifacts and history housed in a half-sized replica of the Titanic itself, Platinum Experience guests will not want to miss their complimentary admission to this world-class attraction.
The Platinum Experience partners are pleased to offer this money-saving program for their valued visitors to Branson and Thousand Hills. The Platinum Experience is unlike any other deal in Branson and is a sure way to increase the value of an end of summer vacation. Guests are encouraged to reserve their Platinum Experience today online at Thousand Hills Resort in Branson or by phone at 1-877-262-0430.
###