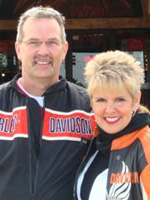 We live, work and play here in this beautiful region and we always look forward to helping folks find their dream home here
Brandson, Missouri (PRWEB) September 27, 2011
Branson real estate experts Joe and Billie Cockrell are urging homebuyers and investors to take advantage of the currently low prices of real estate in the Branson, Missouri area. Citing recent figures from Zillow, the Cockrell Team reports that prices here have dipped by 8.8 percent quarter-over-quarter and by 3.3 percent year-over-year.
"If you've always wanted to own Table Rock Lake real estate or a lakefront vacation home elsewhere in the Branson area, now is your chance to get a great deal," says Joe Cockrell. "It's not certain how long properties here will be as affordable as they currently are, so if you have the means to invest now, then it's best not to wait."
The Cockrell Team is composed of full-time agents who specialize in lakefront properties and other kinds of real estate throughout the Tri-Lakes area in the Southern Missouri Ozarks. "We live, work and play here in this beautiful region and we always look forward to helping folks find their dream home here," says Billie Cockrell. "Whether you're interested in condos for sale in Branson, MO, a home in Kimberling City, or property along Bull Shoals Lake, we're here to ensure that you get what you want for the best price possible."
The team also has extensive experience in helping clients buy and sell commercial real estate, farms, and land throughout the region. They have more than 25 years' worth of knowledge on the local area and more than ten years of combined experience as real estate professionals here. To learn more about their wide range of services and to start searching for real estate in Branson and the Tri-Lakes area today, check out their website at BransonLandAndLake.com.
###