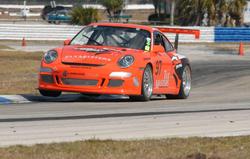 We're incredibly excited about the season and pleased to have such a successful company sign on as our main sponsor
Houston, TX (PRWEB) March 17, 2009
Brass Monkey Racing announced recently they secured TaxMasters, a leading tax representation firm, as the primary sponsor for the 2009 SPEED World Challenge GT racing series. Brass Monkey Racing will run the full 2009 season with Tony Rivera driving the #97 TaxMasters Porsche.
AJ Brass, owner of Brass Monkey Racing, enlisted Jeff Stone of Kelly Moss Motorsports, absent from the SPEED World Challenge for 15 years, to form this new team effort and build the TaxMasters Speed GT Porsches for the season.
Beginning with preseason testing Greg Fordahl joined forces with Stone as lead engineer for this program. Penske Racing Shocks is also working with Brass Monkey Racing to showcase their latest damper technology for Porsches. The team selected a strong driver in Tony Rivera, an experienced driver who came into his own in 2008, winning 12 of his 14 races and making it to the podium 13 times. Tony won the 2008 IMSA Challenge Gold Cup championship and led the second-place driver by 30 points at season's end.
2009 marks the 15th anniversary of the dominating performance displayed by Kelly Moss Motorsports and the Stone brothers in the World Challenge in 1994. The '94 season saw Kelly Moss entries win eight of the ten scheduled races, start in pole position 80 percent of the time, and place overall first and second for the year. 1994 was also the first year an American team or driver won the world wide Porsche Cup championship with Kelly Moss drivers Price Cobb (first) and Mauro Baldi (second) filling the top two spots. Price Cobb and his wife Charissa have come full circle and are now back at Kelly Moss, where Price is the General Manager and Charissa manages logistics.
When asked about the 15 year absence of Kelly Moss Motorsports from the World Challenge, Jeff Stone said, "I think it's great to be back in the SPEED World Challenge, especially given our incredible results 15 years ago, which was the only year we ran in this series. Price was always one of my favorite drivers and Tony is another great driver that I expect will do well with our team. This should be an exciting year for all of us. We want to make a splash with Brass Monkey Racing and we feel like we have all the pieces in place to do that, from the driver to the team to the sponsors over at TaxMasters."
"We're incredibly excited about the season and pleased to have such a successful company sign on as our main sponsor," said AJ Brass. "TaxMasters' knowledge and interest in racing was obvious from our first conversations. This feels like a perfect match."
"We're incredibly pleased to be able to help out Brass Monkey Racing for the 2009 season," said Patrick Cox, TaxMasters' founder and President. "The only thing that looks faster than the car is the driver. AJ has put together a fantastic team in Jeff, Greg, Tony, and the others. We're really looking forward to this."
Founded in 2001, TaxMasters is a leading tax representation firm, offering solutions and tax relief for US taxpayers experiencing problems with the IRS. The tax resolution company has grown rapidly over the past decade and continues to expand to meet an ever increasing demand for quality tax representation in the US.
###