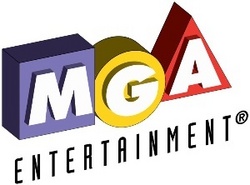 LOS ANGELES (PRWEB) August 1, 2007
"Be-Bratz.com(TM) is an immersive virtual world that extends the immensely popular Bratz(TM) brand into the online space through stimulating activities, a highly personalized 'MyPage,' a customizable 3-D room, and fun, safe communication tools. The online experience is ubiquitous in play patterns of today's young girls, so this connection between doll and web is a natural for MGA, especially given the success of our past toy/web initiatives," said Isaac Larian, CEO of MGA Entertainment.
Be-Bratz.com(TM) is accessible only with a special glam necklace that comes packaged with one of three new Bratz(TM) fashion dolls. The necklace doubles as a USB key that unlocks the virtually stunning Be-Bratz.com(TM) world. Once there, you'll create your very own Bratz(TM) character and customize your 'MyPage' to fit your own personal style. Then, pick a dazzlin' background, choose your favorite music, and take the quiz to reveal your Bratz(TM) personality...now you're ready to hit the salon, design the hottest fashions, earn points in the Game Zone, and so much more! The Be-Bratz.com(TM) virtual world is always expanding and will be adding new and exciting features every month. Outfitted with the necessary components for parents to feel secure knowing that Be-Bratz.com(TM) is being monitored for safety, users can text message each other on the site, with live chat coming later this year.
Each of the three new fashionable Be-Bratz.com(TM) dolls comes complete with an adorable pet, real-working mouse, mouse pad, and necklace with secret USB key, which is all you'll need to experience all the excitement of Be-Bratz.com(TM). MSRP $29.99 each. Compatible with Windows(R) OS 2000/XP (MAC(R) and Windows(R) Vista to be supported late 2007.)
About MGA Entertainment, Inc.
MGA Entertainment, a consumer entertainment products company headquartered in Van Nuys, California, manufactures innovative lines of proprietary and licensed products including toys and games, dolls, consumer electronics, home decor, stationery, and sporting goods. The MGA family includes such brands as the multi-award-winning Bratz(TM), Bratz Babyz(TM), Bratz Kidz(TM), Lil' Bratz(TM), Yummi-Land(TM), Storytime Collection(TM), Rescue Pets(TM), Miuchiz(TM), and the newly acquired Little Tikes(TM) brand. MGA has also acquired worldwide licensing rights for Zapf Creation(TM). For more information please visit: http://www.mgae.com, http://www.bratz.com, http://www.littletikes.com