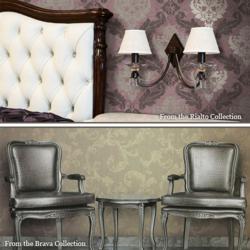 Our goal is to offer customers stylish options at reasonable prices, with the convenience of online shopping.
Chattanooga, TN (PRWEB) September 13, 2012
Internet Wholesaler, Inc. announces today that they have partnered with New Line Fabrics to introduce their two newest collections from Fresco Wallcoverings. The Brava and Rialto collections, will be offered online, exclusively at WallpaperWholesaler.com.
The Brava collection delivers rich textures, colors and patterns that include sophisticated florals, subtle shaded geometrics and sleek, textured stripes and solids. This refined collection is smart and alluring. The Rialto collection offers a large palette of textures and colors for pleasing aesthetics and high performance. This collection presents an elegant combination of solids, stripes and designs that incorporate traditional metallics with contemporary flair for the utmost in cultivated beauty.
New Line Fabrics is a well established American company with over 15 years of experience in the international marketplace. They pride themselves on their ability to maintain traditional principles of old world artisanship, dependability and excellence. Wallpaper Wholesaler is proud to collaborate with New Line Fabrics to make these collections available to consumers online. Both New Line Fabrics and Wallpaper Wholesaler endeavor to provide quality products and superior service and conduct their businesses with integrity. Their valued clients and customers have grown to appreciate and expect the highest level of professionalism.
Wallpaper Wholesaler is excited to be adding the Brava and Rialto collections to their already wide assortment of wallpaper, border and wallcoverings. These two collections are now available exclusively on their website at a special introductory price. "Our goal is to offer customers stylish options at reasonable prices, with the convenience of online shopping." states Bill Light, COO of Wallpaper Wholesaler.
Wallpaper Wholesaler has been serving the public for over 35 years by offering the best prices on wallpaper, blinds, shades, shutters, draperies, and more. Visit the showroom in Chattanooga, TN or online anytime at http://www.wallpaperwholesaler.com.
Internet Wholesaler, Inc.
3956 Brainerd Rd
Chattanooga, TN 37411