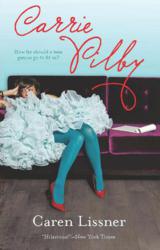 I've always wanted to find a female Holden Caulfield.
Los Angeles, CA (PRWEB) June 18, 2013
Independent Spirit Award winning producer Susan Johnson of BRAVEART FILMS will make her feature directorial debut backed by veteran producers Suzanne Farwell and Susan Cartsonis with an adaptation of critically acclaimed novel Carrie Pilby by Caren Lissner. Farwell is the long-time collaborator of Nancy Meyers and Co-Producer of SOMETHING'S GOTTA GIVE and Executive Producer of THE HOLIDAY and IT'S COMPLICATED, and Cartsonis is Producer of WHAT WOMEN WANT, WHERE THE HEART IS, AQUAMARINE, BEASTLY and Executive Producer of NO RESERVATIONS. The three filmmakers met a decade ago during the production of WHAT WOMEN WANT. The team has now launched a Kickstarter campaign to raise funds to make the independent film in 2014. Kickstarter has become a life-saving platform for independent filmmakers, and this campaign will be Johnson's third following two successful campaigns last year.
Carrie Pilby is a smart, humorous look at life from the eyes of a 19 year old former prodigy who has graduated Harvard with no emotional resources and no idea how she fits into the world. Her psychiatrist issues a challenge to force her to crack open her isolating protective shell, and to adjust Carrie's quest for moral superiority which challenge her with funny and life-changing consequences.
"I've been in love with this novel and with the character of Carrie Pilby for a long time, so to bring Carrie and her journey to life on film will be a dream come true for me," says Farwell. "The three of us have such a shared passion for this material. I am so excited to be working with Susan Johnson on her feature directorial debut, and thrilled to be producing with Susan Cartsonis. I have tremendous confidence in us as a team to translate Carrie's unique charm and wit to film."
"I've always wanted to find a female Holden Caulfield," says Johnson. "Carrie is brilliant, funny, conscious, inquisitive and brave enough to say the things we wouldn't dare. I'm honored to be working with Caren Lissner and producers Suzanne Farwell and Susan Cartsonis, both of whom have a track record for producing thought provoking films with strong female leads."
Carrie Pilby was one of the first novels published by female-focused imprint, Red Dress Ink. In its first printing the book garnered critical acclaim for its humor and intelligence and sold 50,000 copies. In 2010, Carrie Pilby, due to reader demand by its young female audience, was re-published by Harlequin's Teen line, and subsequently has been published in France, Spain, Italy, Mexico, Australia, Indonesia, and the UK where it has continued to gather a following and critical distinction.
"You know when a writer has a voice that's like hearing your favorite song for the first time or when you meet someone who's destined to be your best friend? That's how I feel about Caren Lissner's voice of Carrie in this incredible book," says producer Susan Cartsonis. "I've gotten that feeling a few times before: as a kid reading "Harriet the Spy", as a teen reading "A Confederacy of Dunces", as an exec reading the script of BUFFY THE VAMPIRE SLAYER. I'm excited to be invited into producing this funny and unique book about a memorable misanthrope who learns to open herself up to life and love."
Director Susan Johnson, a Humanitas and Independent Spirit Award-winning producer, graduated from the AFI directing program, which she attended on a full scholarship. She has directed over 40 music videos. A few of Johnson's producing credits of the eight films she's made in eight years include the 2013 supernatural thriller THE BETWEEN, EYE OF THE HURRICANE, starring Melanie Lynskey, Campbell Scott and Nicola Peltz, distributed by eOne worldwide, and MEAN CREEK, which competed at Cannes and premiered at the Sundance Film Festival and was released by Paramount Pictures and Focus Features.
Farwell and Cartsonis said in a joint statement, "Susan Johnson has supported other filmmakers and now it's her turn up at bat, and we're proud and happy to support her!"
To follow the film, learn more about the funny and fragile Carrie Pilby and contribute to this exciting campaign, visit our Kickstarter page, "like" our Facebook page and join us on Twitter. Braveart Films can also be found on Twitter and Facebook. Additionally, be sure to stay tuned for more information on the project's Kickstarter campaign.