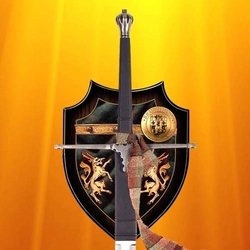 Museum Replicas worked directly with Simon Atherton, the sword master, from the original movie set
Conyers, GA (PRWEB) December 18, 2009
Atlanta Cutlery Corp. (ACC) & Museum Replicas Ltd, (MRL) has obtained a license to develop a range of prop collectibles and specialty products including full-scale helmets, weapons, and other props and costumes, all inspired by the characters and themes from the iconic film, BRAVEHEART.
Paramount Licensing's licensee, Museum Replicas has created the first collectible in the series fit for the brave of heart - the BRAVEHEART "tartan" collectible sword. The hand-forged, fully tempered, high carbon steel sword has saddle grade, hand-oiled leather accents. It is made exactly as an original would have been made during the era in which BRAVEHEART was set - the 13th century - for authenticity.
"Museum Replicas worked directly with Simon Atherton, the sword master, from the original movie set," says Robin Chaudhuri, Director of Licensing. For the first time, an exact replica based faithfully on the actual sword carried by William Wallace portrayed in the film will be available. The sword includes a wood display plaque with custom graphics, plus an actual tartan strip of wool, as seen in the movie for further authentic effect. A Certificate of Authenticity is included and ensures you have the genuine sword.
The BRAVEHEART tartan sword retails for $325, and is now available in the United States primarily via the Museum Replicas catalog reaching over 2 million consumers annually and online at http://www.museumreplicas.com. The collection will also be available at a variety of specialty stores, both brick-and-mortar and online, including those specializing in movie collectibles, memorabilia, comic stores, cutlery stores and prop stores.
About Museum Replicas and Windlass Studios:
Museum Replicas Ltd. and Windlass Studios along with their partner company, Windlass Steelcrafts are recognized as a worldwide leader in the design, manufacture and marketing of fine collectible products. With headquarters in Conyers, Georgia they sell their products in over 14 countries around the world. Licenses include Marvel Comics, The Terminator, Assassin's Creed I and II, Star Wars, The Tudors, Frank Miller's 300, Wheel of Time, The Phantom, World of Warcraft, Conan Hyborian Adventures, The Lord of the Rings, Harry Potter and the upcoming Ridley Scott motion picture, Robin Hood.
About Paramount Licensing:
Paramount Licensing handles licensing rights worldwide for properties of Paramount Pictures, Paramount Vantage, Paramount Classics, MTV Films and Nickelodeon Movies. Paramount Licensing has established robust licensing programs for Paramount's extensive library of films and current releases through merchandise, stage plays, publishing, and recreation programs. Visit Paramount Licensing at http://www.paramountlicensing.com.
Contact:
MRL/Windlass Studios 770-922-7500
Nisha Windlass, Media Relations
Robin Chaudhuri, Licensing & Wholesale
###