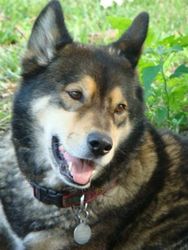 'Dogs come first' is our mission
Minneapolis, MN (PRWEB) September 16, 2009
Minneapolis-St. Paul, Minnesota (PRWEB) September 16, 2009 -- Braveheart Rescue Inc., a nonprofit dog rescue, invites dog and music lovers to a fundraiser to be held Saturday, October 10, 2009 at Famous Dave's BBQ and Blues Club in Uptown Minneapolis, from 1:00 pm to 6:00 pm. Five local bands--Wolves at the Door, Armadillo Jump, Druscilla Abernathy & the BKS Vine, The Bourbones, and Detroit Don King Band--will perform on the Famous Dave's stage throughout the afternoon. There will also be a silent auction and raffle give-aways. Cost is $10.00 per person at the door and in advance.
Famous Dave's BBQ and Blues Club is located at Calhoun Square, 3001 Hennepin Avenue South. Tickets can be purchased in advance by calling 612.382.4234. Donations are welcome by going to Braveheart Dog Rescue's website. All proceeds will go directly to Braveheart's efforts in rescuing dogs, helping them heal physically and psychologically, and finding them homes.
About Braveheart Rescue Inc.
Located on five acres of land south of Hastings, Minnesota, is a nonprofit charitable dog rescue that takes in any breed of dog from across the United States. Dogs taken in by the rescue are physically abused, sick, lack socialization, have no history, and are generally on a list to be euthanized. On average Braveheart Rescue Inc., helps between 100 and 150 dogs annually and has the capacity to kennel and care for about 30 dogs at one time. Recent natural disasters and the current recession have led to an increased number of dumped and abandoned dogs. "'Dogs come first' is our mission," says owner Brandi Tracy. "We will use funds raised from this benefit to help the dogs we take in and to grow our facilities in response to the growing need."
About the Bands
Midwestern singers/songwriters Nikk Wolf and Kai Ulrica collaborated to form Wolves at the Door and have released two CDs: Main Street is Empty (Jan 2005) and Unforgiven (May 2007). Their music has progressed from folk rock to just rock and roll. The band consists of Nikk on guitar, Kai on guitar and vocals, John "Crash" Jones on the drums, Tom Metry on bass guitar and vocals, Tina Slayton on backup vocals, and Caleb Olson on multimedia and web support.
Armadillo Jump is a Twin Cities-based blues and rock band that offers up a Texas-style rockin blues sound. Monica Louise on guitar, keys and vocal, Phil Haire on bass and vocals, John Coburn on guitar and vocals, Nick Zwack on drums, guest Merlin "Bronco" Bronkow on saxophone, and Armando Jaramillo as manager.
Druscilla Abernathy and the BKS Vine weaves a classic R&B, jazz, gospel, and funk with contemporary sound playing neo soul, pop, Latin and original compositions. The band consists of the vocal blend of Kathleen Johnson a.k.a. Druscilla, Michelle Carter, Shayde, and Brandon Hess with long-time collaborator Todd Burrell on piano, Jordan Carlson on drums, Blair Krivanek on guitar, and Art Haynes on bass. Band members have worked with artists such as Prince, Carmen Electra, Billy Holloman, Nachito Herrera, Alexander O'Neal, Lori Line, Billy McLaughlin, Artist Keri Noble, The Petersons, and The Steeles.
The Bourbones is a band of four musicians with a long history of playing around the Twin Cities. Influenced by Freddy King, Howlin' Wolf, Albert King, and Magic Sam, they have been called "Minnesota's hardest working blues and boogie band," and have played throughout the United States. Band members include Mike Kimmel, Katy Thomasberg, Rhona Brack, and Pete Lind.
The Detroit Don King Band is a blues band with the sound of BB King. Don King is an old-school blues singer and player from Detroit who is joined by Dan Emerson on bass, Brian McLaughlin on guitar, Doug Hill and Brian Glasscock on drums, Tall Pall from Chicago, Jani Brakken and Hall Sanders on saxophone, and Dave "Cool Breeze" Brown on guitar and vocals.
Thanks go to Famous Dave's BBQ and Blues Club, Wolves at the Door, Armadillo Jump, Druscilla Abernathy & the BKS Vine, The Bourbones, and Detroit Don King Band for their kind donations of space and talent.
###