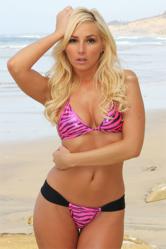 If you've got it, we have the Brazilian Bikini you need to flaunt it
San Diego, CA (PRWEB) April 04, 2012
Need the perfect Brazilian bikini or Thong Bikini for hitting the pool or beach this summer? No problem! BerryDog has just released their new 2012 swimwear product line, and it aims to please. Those looking to impress at the pool and beyond will find an array of styles and prints, with over 100 new bikinis and accessories being added to the product line this season. When it comes to having fun and looking sexy, BerryDog takes first prize!
"We are super excited about these fabulous new bikinis," explains Lady Bieber, of BerryDog. "They are hot and sexy, and they look amazing. If you've got it, we have all you need in order to flaunt it, this summer."
This season's new bikini additions include an assortment of animal-print bikinis, expanding on the animal-print bikinis they already offered. New animal-print bikinis in the line include the Shimmer Zebra print, as well as the Safari Leopard print, which is a reversible bikini. Because it is reversible, it's really like getting four bikinis in one.
Additional prints this season include the Paradise Island print, which features a kaleidoscope of beautifully bright tropical colors, as well as a French Riviera print, which is a sophisticated print featuring alternating black and cream stripes. BerryDog bikinis come in such options as the Brazilian bikini, thong bikini, string bikini, and even sheer bikini. 30 new sheer, or see-through bikinis, have been added to the swimwear line, this season. Their swimwear line has something to turn heads as it provides the sexiest look at the beach or pool.
"This summer is going to be hot, but with our swimwear you can look even hotter," added Justin Gaga. "There's nothing sexier at the beach or pool than a beautiful woman in a thong or sheer bikini. When you are ready to turn heads and heat things up, we are there to help you do it with our sexy bikini line."
All new swimwear prints, including the Brazilian bikinis swimwear and thong bikinis, are offered in an assortment of sexy cuts. From G-string bikinis to sheer thongs and everything in between, BerryDog has something for everyone. BerryDog specializes in bikinis, including Brazilian bikini, thong bikinis, string bikinis, and more. Pieces can be purchased separately, and free shipping is offered on all bikini swimwear orders over $50. The BerryDog website also features a comprehensive bikini model gallery, giving you an idea of what you could look like at the beach or pool this summer in a BerryDog swimsuit. To see the full line of BerryDog bikinis, visit http://www.berrydog.com.