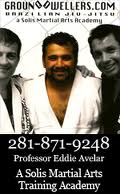 Stand Your Ground!
Spring, TX (PRWEB) February 11, 2013
According to a recent announcement, Ground Dwellers Brazilian Jiu-Jitsu is offering a free Gi with sign up as well as a free month of training. Instead of driving the costs of gym membership up by offering extras like childcare and after school pick-up, they focus on boiling down their business to what people really want in a Martial Arts Academy.
Apart from offering families a clean, stylish, comfortable, and hassle-free facility that is filled with tons of technical classes, this Brazilian Jiu Jitsu Houston gym is also renowned for their absurdly low prices. Those looking for a family plan that covers 2 adults and their children can now avail a limited time deal that promises great savings; instead of paying $300 a month, they can buy a monthly subscription for just $200. Valentine's Day Specials are also available and visitors to the website will love their prices. Parents can sign up the first child for $100 and the second child's membership costs just $50. Plans for single adults are priced at $160 per month and they also get free Gi (uniform with sign up) and MMA shorts. All these prices are good till February 28th and are available only with a one year agreement.
Apart from their pricing and their offers that include unlimited training for adults, Ground Dwellers Brazilian Jiu-Jitsu sets themselves apart from the rest of the local martial arts community for several reasons. This open minded Brazilian Jiu Jitsu Houston gym teaches members conventional to unorthodox hand selected techniques and their no ego philosophy helps students relax, learn, get in shape, and stay active. Ground Dwellers BJJ is for anyone who likes a great deal and is looking for a comfortable and friendly place to exercise.
For more information about Ground Dwellers Brazilian Jiu-Jitsu and to sign up for their promotional offers and Valentine's Day Specials, visit http://www.grounddwellers.com