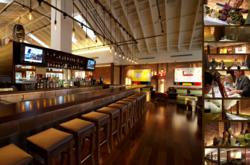 Pampas now offers our much lauded authentic Brazilian cuisine to residents all throughout the Bay Area
Palo Alto, CA (PRWEB) December 22, 2011
With the holiday season in full swing, Pampas Restaurant, a Bay Area Brazilian restaurant, offers its holiday "Rodizio on Wheels" catering service. Pampas provides flexible catering options, ranging from simple delivery to fully staffed catering services, including coordinators, chefs, servers and bartenders. The holiday catering selections include gourmet hors d'oeuvres, festive entrees, decadent desserts and more. They also offer a variety of rental options, luxurious linens and holiday decor.
"Pampas now offers our much lauded authentic Brazilian cuisine to residents all throughout the Bay Area. Whether you are planning a wedding, holiday party, organizing a corporate event or simply arranging a get-together with friends and family, Pampas now offers you a genuine rodizio and churrascaria dining experience wherever your event may be," Moritz Drost of Pampas Restaurant said.
Pampas provides authentic Brazilian cuisine prepared from the finest ingredients. With thirteen grilling options, including their most popular selections of Picanha (top sirloin), Medalhao (tenderloin fillet tips) and Abacaxi (slow-roasted pineapple), and more than forty sidebar options, Pampas guarantees a unique and memorable holiday meal.
Pampas catering can also supply full bar and wine services, including specialty cocktails such as the Classic Caipirinha, a mix of Leblon cachaca, simple sugar and muddled limes; or the Cosmo do Diabo, made from mixing Mazama-infused pepper vodka, pineapple juice and passion fruit.
Pampas will extend its store hours for the holidays and will be open on both Christmas Eve and New Year's Eve, offering catering, private event and dinner services to its guests.
For more information on Rodizio on Wheels, contact Pampas Restaurant at 650-319-8041, view them online at http://www.pampaspaloalto.com, or visit the restaurant at 529 Alma St., Palo Alto, CA 94301.
About Pampas Restaurant
The authenticity of the Brazilian churrasco at Pampas Restaurant creates a modern-dining emporium where everyone can feel at home. Pampas Restaurant offers a sidebar brimming with seasonal vegetables, fresh salads and artisanal cheeses. As one of the Bay Area's best steakhouses, Pampas serves simply prepared meats that are spit roasted to juicy perfection and sliced tableside without limit. Pampas brings a team of accomplished professionals to every aspect of food, beverage and service. With its new restaurant catering service, Pampas is committed to providing an extraordinary experience to Bay Area residents.
# # #