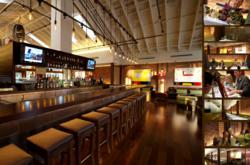 With more than 22 top producers pouring more than 90 wines all under one roof, the Grand Tasting is sure to have something for everyone
Palo Alto, CA (PRWEB) March 28, 2012
Pampas Restaurant, one of the Bay Area's best steakhouses and Brazilian restaurants, is announcing its annual Grand Tasting event on April 25, from 5:00 p.m. until 9:00 p.m. Tickets are $40 per person and are all inclusive.
Pampas is back with its annual Grand Tasting event, showcasing top wineries from around the world selling their wines directly to consumers. Join Pampas for the Peninsula's biggest tasting event of the year, and taste with master sommeliers, winemakers, importers and brand ambassadors directly. Whether new to tasting or a seasoned veteran, discovering new wines or rediscovering old favorites, this will be an evening to remember.
"With more than 22 top producers pouring more than 90 wines all under one roof, the Grand Tasting is sure to have something for everyone," said Moritz Drost of Pampas Restaurant.
Pampas will once again be featuring top local producers from Napa Valley, Sonoma County, Russian River, Mendocino, San Luis Obispo, Paso Robles and Santa Barbara, as well as imported favorites from France, Italy, Spain, Germany, Australia, New Zealand and South America.
Casually stroll booth to booth, sampling favorite wines while enjoying fine food offerings, specially prepared by Pampas' chefs, exclusively for this event. New to wine tasting? Let a master sommelier guide a journey with regional maps, product sheets, and vintage charts, and help pick the perfect wine. Find a favorite? Buy it on the spot at discounted direct from distributor pricing.
"For our guests' convenience all wine will promptly be shipped to Pampas, where it will be sorted and inspected for any potential damages, and attendees will be notified when their purchases are ready for pick-up," said Drost.
Bid on exclusive library and large format bottles at the silent auction, or try a bit of luck in ongoing raffles throughout the evening. This event features wines of all styles and at every price point, including sought after new releases, hard to find library collections, and end of vintage selections. Don't miss this unique opportunity to sample and purchase remarkable wines direct from the wineries.
This is an exclusive, private event and tickets will sell out, so make sure to RSVP now.
More information about this event can be found at Pampas' website http://www.pampaspaloalto.com. Reservation requests can be made online or by contacting the restaurant directly at 650-327-1323.
About Pampas Restaurant
The authenticity of the Brazilian churrasco at Pampas Restaurant creates a modern-dining emporium where everyone can feel at home. Pampas Restaurant offers a sidebar brimming with seasonal vegetables, fresh salads and artisanal cheeses. As one of the best steakhouses in the Bay Area, Pampas serves simply prepared meats that are spit roasted to juicy perfection and sliced tableside without limit. Pampas brings a team of accomplished professionals to every aspect of food, beverage and service. With its new restaurant catering service, Pampas is committed to providing an extraordinary experience to Bay Area residents.