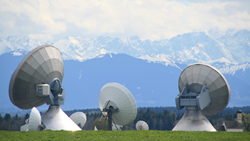 'This solution ties together our expertise in the government sector and effectively demonstrates our emerging presence in the maritime space.'- Jesus Barber, Sr. VP of Mobility Services - EMC
Washington, D.C. (PRWEB) March 12, 2014
Global satellite (VSAT) and terrestrial communications services provider Emerging Markets Communications (EMC) announced today it has been awarded a contract from the Brazilian Navy (Marinha do Brasil) to provide VSAT satellite connectivity services for the entire Brazilian Navy Fleet. EMC will deliver services using its Global Ku-Band network, allowing seamless roaming across undefined routes in varying satellite beams. This unique satellite communications service incorporates EMC's Satlink technology and enables high speed, secure Wi-fi, VoIP, video conferencing, and real time management, supported by EMC engineers and Global Operations Center, available 24 hours, 7 days per week.
"This development for Marinha do Brasil is a fantastic representation of EMC's commitment to providing reliable, complete satellite communications solutions based around unique customer specifications in multiple verticals," said Jesus Barber, Sr. VP of Mobility Services at EMC. "This solution ties together our expertise in the government sector and effectively demonstrates our emerging presence in the maritime space."
EMC's maritime solution for the Marinha do Brasil includes satellite capacity from its Ku-Band network and its proprietary industry-leading SatLink® 2900 Mobile modems. EMC's Ku-Band network provides seamless coverage for global roaming across varying satellite beams, which allows for travel across undefined routes while maintaining connectivity at a rate of 99% SLA. In addition, EMC has provided a dedicated, private IP network for increased security across the network.
EMC's solutions for maritime applications provide all the benefits of a carrier-class network for traditional ISPs and telecom carriers. Using products with high-availability and excellent throughput, such as EMC's own SatLink® line, plus renowned 24x7 customer support, EMC provides secure networking necessary for the voice, data, and corporate communication needs of the maritime industry. SatLink VSATs are in place on thousands of vessels today with support for global roaming across many satellite beams serviced by many different EMC Hubs installed around the world.
About Emerging Markets Communications
Emerging Markets Communications® is a global satellite and terrestrial communications company specializing in delivering mission-critical, network services for the global energy industry, mobile network operators, carriers, governments, NGOs and worldwide enterprises with locations in the most remote and/or challenging areas of the world. As a proven industry leader, Emerging Markets Communications® enables customers the agility, scalability and efficiency designed to facilitate growth for their global operations.
The company operates in 140 countries, with 27 global field support centers and wholly-owned infrastructure of teleports and terrestrial pops in US, Europe and Africa. Emerging Markets Communications® is financially backed by ABRY Partners; a firm specialized in funding the communications industry with $36 billion of completed transactions.
For more information, call 1+305-539-1358, email sales(at)emc-corp(dot)net or visit http://www.emc-corp.net.