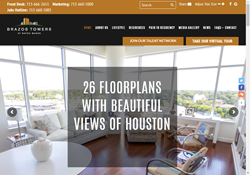 Houston, Texas (PRWEB) June 20, 2017
HOUSTON – Brazos Towers at Bayou Manor is proud to announce the launch of their new website and a host of new options for today's modern senior. Brazos Towers at Bayou Manor has more than 50 years of experience in helping seniors maintain the active, independent lifestyle they love while offering them the services to support that lifestyle both now and in the future. Instead of having to deal with the burden of property ownership and chores, those who call Brazos Towers at Bayou Manor home can enjoy more time for their favorite hobbies, activities, social outings with friends, travel and so much more.
Brazos Towers at Bayou Manor is a non-profit senior living community that offers private apartments for both independent and assisted living, private skilled nursing rooms, and a dedicated memory care unit. They offer a wide variety of floorplans that range from cozy one bedrooms up to spacious two bedroom, two bath apartments, similar in size to a patio home. Now, they are super easy to check out on their new website. Take a beautiful tour of their complete campus without even leaving the comfort of your easy chair! This new responsive site allows for easy access from your desktop, laptop, tablet or phone. Rich media enables visitors to the new website to enjoy an immersive experience.
Seniors who move into Brazos Towers at Bayou Manor enjoy meeting new friends and sharing new experiences. A full calendar of opportunities to join in group activities gives residents a chance to get to know their neighbors. With residents ranging from 62 years old to over 100 years, there is something for everyone. The ease of having social opportunities only an elevator ride away gives their residents the ability to "Live More" than they might have had the opportunity to do at home alone.
Brazos Towers at Bayou Manor is a close-knit community of both residents and staff members. Located in Houston, close to the Texas Medical Center, their residents can enjoy all the benefits of big city living without the stress. Surrounded by a beautiful park like setting – they escape into a natural oasis they can call home.
Updated pictures of the accommodations, amenities, and grounds help seniors and their loved ones to take a look at what Brazos Towers at Bayou Manor has to offer without having to leave the comfort of their home. An indoor swimming pool, an extensive library, and amazing community spaces set this senior living community a step above the rest.
Find out more about the options available at Brazos Towers at Bayou Manor by visiting their new, updated website today.