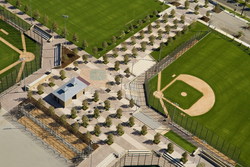 We want to get the kids out on the fields playing, because that is what it's really all about.
Brea, CA (Vocus) February 10, 2009
The City of Brea hosts the Grand Opening of the Brea Sports Complex from 9 a.m. to noon on Saturday, February 14, 2009. Citizens are invited to celebrate with the City Council, City Commissioners and youth sports groups during a brief ceremony. The park is located at the corner of Valencia Avenue and Birch Street.
"It's going to be all about the kids. We're not going to go overboard with pomp and circumstance," says Brea Community Services Director Scott Malkemus. "We want to get the kids out on the fields playing, because that is what it's really all about."
The 26-acre complex, designed by LPA Inc., includes a softball field, two baseball fields, a football/soccer field, practice field, two basketball courts, two overlay soccer fields, a loop running walking path, tot lot, central quad, concession stand and restroom facilities. There are five batting cages with backstops and bullpens, grandstands and a passive park, which doubles as a water mitigation and storm water management area.
"The park was the result of a collaborative process between the architect, our staff and community members, who have wanted this for a very long time. It was a community based design and LPA lead us through that process," adds Malkemus. "It's evident that LPA cares for us … We trust one another and it's been a great working relationship."
The site was previously owned by Chevron Oil Company and active wells had to be incorporated into the design.
Sustainable features at the Brea Sports Complex:

Treatment and retention of on and off-site storm water.
Sub drain fields that regenerate ground water.
Central control irrigation system that reduces water consumption.
Use of locally manufactured materials.
Increased use of permeable surfaces to increase water percolation.
The LPA Project team included Managing Principal Kevin Sullivan, Design Principal Wendy Rogers and Project Manager Arash Izadi.
Multimedia features:
The Brea Sports Park online photo gallery
The Brea Sports Park video package
About LPA Inc.
LPA provides services in architecture, engineering, interior design, landscape architecture, planning, signage and graphics. With more LEED-certified buildings than any other firm in the state, LPA houses the top sustainable design experts in both Northern and Southern California. With extensive experience in public and private architecture, LPA designs a diversity of facilities that span from K-12 schools, colleges and universities, to civic and corporate establishments. Founded in 1965, LPA has more than 220 employees with offices in Irvine and Roseville, Calif.
###