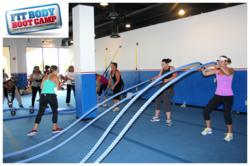 Fit Body Boot Camp is really changing the way people work out...We change it up a lot so that every workout is different, using TRX suspension trainers, kettle bells, battling ropes and a lot of other fun but effective tools. - says John Eckerman
Brea, CA (PRWEB) September 27, 2012
Chino Hills Fit Body Boot Camp Owners Cara and John Eckerman have experienced tremendous personal and professional growth over the last few years. It started with successfully opening their first two Fit Body Boot Camp locations in Houston, TX; then moving out to California and opening Chino Hills Fit Body Boot Camp; and culminating in the recent announcement of the Grand Opening of Brea Fit Body Boot Camp for October 1st.
"We were really excited about moving to CA," says the energetic Cara, "and are excited for the opportunity to bring Fit Body Boot Camp to the wonderful Brea community."
The Eckerman's opened Chino Hills Fit Body Boot Camp and the response and demand far exceeded their expectations. Chino Hills Fit Body Boot Camp is an innovative fitness boot camp franchise that is based on its Unstoppable Fitness Formula Workouts; which are intense, 30 minute sessions that get clients into incredible shape in a surprisingly short time. The program has become incredibly popular and appealing to people who normally have a hard time fitting fitness into their busy schedules.
"Fit Body Boot Camp is really changing the way people work out," says John. "We change it up a lot so that every workout is different, using TRX suspension trainers, kettle bells, battling ropes and a lot of other fun but effective tools."
One of the most important and effective tools they use is an atmosphere that is both motivating and encouraging, says Cara.
"We're really focused on maintaining a non-intimidating, encouraging environment for everyone so that they can be successful in meeting their weight loss and fitness goals," she explains. "We combine strength training with high intensity cardio and remove the fluff so clients can get in and out in 30 minutes."
Their commitment has been very successful and has built an incredibly loyal following among their clients. Chino Hills Fit Body Boot Camp client Katie Baca, who has been a client for over a year, appreciates both the atmosphere and the one-on-one guidance offered by John and Cara and their trainers.
"Chino Hills Fit Body Boot Camp provides a higher level of service to all of its clients. The staff maintains a positive and supportive environment while challenging individuals at every fitness level," she says. Of course, the proof is in the results. "The workouts are constantly changing, and the nutritional counseling ensures that the best results are achieved. If you've got the will, they've got the way!"
Due to the overwhelming demand for their fitness boot camp, the Eckermans are excited to bring their focus and drive to Brea, CA with Brea Fit Body Boot Camp, which is slated to open on October 1st. With the addition of a second facility, the Eckermans' goal is to impact the lives of 3,000 residents in the coming year.
"We're not a big company, but we employ a small team of truly awesome trainers that share our passion and vision for helping people live the lives they were meant for," says Cara. "We're really committed to helping people become fit so that they can live richer, fuller lives now and save on unnecessary medical bills later."
"It's not just about looking great," adds John. "While all of our clients lose weight and get a lean toned body, they also become stronger, more energetic and can keep up with their kids. Many of our clients have also lowered their cholesterol or blood pressure and some even get off medications after joining our program."
About Brea Fit Body Boot Camp
Owned by award winning indoor boot camp owners Cara and John Eckerman, Brea Fit Body Boot Camp is an indoor boot camp that combines fun and inspiring workouts with professional instruction, accountability and support that maximizes fat loss results. For more information or to see a boot camp session in action, visit John and Cara's website at http://www.fitbodybootcamp.com/CA/brea-fitness-boot-camp or email Cara at cara(at)chinohillsfitbodybootcamp(dot)com or call (909) 206-4383.