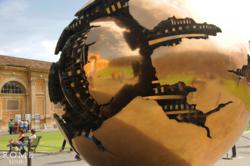 Seeing the Museums while they're empty is incredibly rare. It really colors your experience of the Vatican City.
The Vatican City (PRWEB) April 23, 2013
For the first time ever, visitors to Rome can now enter the Vatican Museums over an hour before anyone else, to enjoy a banquet breakfast in one of the Palace's most beautiful courtyards. Tour operator Dark Rome, an Official Partner of the Vatican Museums, has launched an exclusive Vatican tour that avoids the 'New Pope' crush at the Vatican Museums, taking guests inside for breakfast in the Pinecone Courtyard before even the cleaners begin work.
Since the election of the Pope Francis on April 13, 2013 Dark Rome Tours has reported a 50% spike in its Vatican tour bookings year-over-year – indicating a significant increase in visitors to the Vatican Museums.
"With over 5 million visitors last year and more expected this year, the Vatican Museums can get really busy – especially during the summer months. Our intention with this tour was to offer visitors a chance to get in before the crowds, to enjoy the natural tranquility of the Museums before they open. Seeing the Museums while they're empty is incredibly rare and it really colors your experience of the Vatican City. We hope that by offering this, we'll be creating a once-in-a-lifetime experience for our guests," said Michael Smith, Italy Product Manager for Dark Rome Tours.
Entering the Vatican Museums at 6:50 am (1 hour and 10 minutes before the Museums open to tour operators and 2 hours 10 minutes before general opening time), Dark Rome's Vatican Breakfast Behind Closed Doors Tour takes guests through the Museums to the Pinecone Courtyard where they'll enjoy a banquet breakfast alongside one of the Museums' most important modern works of art, the so-called 'Squashed Tomato' sculpture, versions of which exist all over the world in cities like New York and Dublin.
"Italians don't really do breakfast," says Michael Smith. "For them a coffee and a pastry is a full morning meal. We've done a lot more than that though. We're offering a full American buffet and our own pancake chef as well as the usual coffee, pastries and cold meats. It will all be served at tables outside in the courtyard, with umbrellas and heaters on standby if it rains."
"After breakfast, which will be capped at 40 people maximum, guests will be split into groups of ten or less and taken on a tour of the Museums and St. Peter's Basilica by one of our expert, English-speaking guides. Since this section of the tour starts before general opening time, rooms like the Raphael Rooms and the Sistine Chapel will be virtually empty."
Running Monday to Saturday every week, this exclusive tour costs €129 ($170) per person and includes all costs – from breakfast to a No Wait Access entrance ticket.
Vatican Breakfast Behind Closed Doors Tour is just one of many innovative products recently launched by Dark Rome Tours, an operator that also offers access to the Sistine Chapel after closing time. In operation for over 8 years now, Dark Rome offers tours in the Vatican, Rome, Venice, Florence and Milan as well as Paris. Day trips from Rome to areas such as Tuscany and Pompeii, plus its Skip the Line offerings and emphasis on small, single language groups have made it a favorite for many travelers seeking more original experiences. For more information see http://www.darkrome.com.