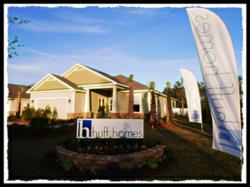 The market is telling us that Huff Homes in Breakfast Point Panama City Beach are priced right, offer the best location, and offer the only NEW product of it's kind of the market. - Matt Brandman, Huff Homes Breakfast Point Development Partner
Panama City Beach, FL (PRWEB) February 03, 2012
Local Niceville, Florida, custom home builder Huff Homes announces partnership with nationally-recognized, residential resort community developer, St. Joe Company. The two real estate development giants are coming together for the Panama City Beach, Florida-based "Breakfast Point" moderately-priced, family residential, planned community.
Panama City Beach has long been a major tourist destination. For many years, it has drawn throngs of young adults and families alike - all seeking to relax and enjoy themselves among these pristine white beaches settled right along the gorgeous Gulf of Mexico.
In recent years, however, there has been a slight - yet subtle - shift. The beaches themselves have been cleaned out, cleaned up, and restored.
Many older hotels, once drawing in the rowdier crowds during summer months, have been taken down or vastly remodeled. Many owners have even sold their more run-down properties for land to other developers in recent years for new, modern - and upscale - construction.
New family-oriented mid to high-end condominium projects have also been developed and many major restaurants and national retailers such as "Home Depot" and "Lowes" have popped up in the traditional "beach" area of Panama City... something unheard of in years past.
Understandably, this began to draw a different type of crowd to Panama City Beach as well. This is especially true of the areas known as "Middle" and "Back" Beach which run "behind" but parallel to the main beach drag. While removed from the direct "hustle and bustle" of the vacationing crowds, these areas really lie just a few mere miles from the beach itself.
Perhaps the two most significant developments in the last couple of years contributing toward this changing image are "Pier Park" - a huge outdoor shopping complex with major national brands in retail and restaurant - and Frank Brown Park. This world-class sports complex has baseball and soccer fields, tennis courts, an acquatic center complete with a mini-water park, and so much more.
The result of all of this being that Panama City Beach has now become one of the most sought-after areas for families in the entire Sunshine State of Florida.
To meet this growing demand, the St. Joe Company - famous for their resort destination high-end developments - has introduced Breakfast Point.
Nestled among conservation land and mapped out as a "planned community," Breakfast Point in Panama City Beach will have many of the upscale amenities people have come to expect from St. Joe with a much lower price tag. Additionally, homes, while starting in the $220Ks (a reasonable price for many families seeking to live in a "beach community") will also be very similar to those seen other St. Joe projects.
Local development and construction firm Huff Homes, based out of Niceville, Florida, is one of just two companies selected by St. Joe to build out these home sites in Breakfast Point.
Owned and operated by Okaloosa County natives Chandler and Brandon, Huff Homes has a sterling reputation for construction quality of both custom homes in the multi-million dollar range and "subdivision" or "spec" homes with a much more moderate price tag. In fact, the Huffs are truly regarded as one of this area's "best builders".
For the Breakfast Point development, the Huffs have also joined forces with Panama City entrepreneur Matt Brandman. Matt's enthusiasm for this project is evident from the moment he begins speaking about this venture, especially when it comes to the potential benefits he sees for the Panama City Beach area as a whole and the quality delivered to homeowners who select a Huff Home in Breakfast Point:
"We are extremely pleased with the success we have had in Breakfast Point to date. We feel this community is in the best location, offering product that does not exist in the market, and building extremely energy efficient homes at very affordable prices. We are also very pleased to be able to bring the Huff brand to Bay County and continue the track record of happy Huff homeowners throughout Northwest Florida. Our attention to detail and customer centric culture we have been able to build sets us apart from other builders and used homes."
Breakfast Point is quickly becoming the standard by which all future Panama City Beach family communities will be measured. The location can't be beat and Breakfast Point local schools, another vital consideration for families, are top-notch.
Adjacent to the community is Breakfast Point Academy, a K through 6 school which has maintained an "A" rating from the Florida Department of Education since opening in 2009. Nearby zoned schools include Surfside Middle School, located about four miles from Breakfast Point and J.R. Arnold High School which is less than two miles from the community.
As Brandman says, "When you take into account the convenient location, the top-tier education available, the community amenities, and the quality homes to be built by Huff Homes, Breakfast Point is just hard to beat. It offers our homebuyers a unique community where you can walk your kids to school, walk to the grocery store and stop at Home Depot on the way home. We are close to all major employment centers in the Panama City area, as well as the world's most beautiful beaches. All retailers and restaurants like Jimmy Buffet's Margaritaville, are right at our front door."
All-in-all Breakfast Point certainly appears a sound investment for anyone seeking to live within 5 miles of the Beach while still enjoying a slightly-secluded, yet convenient, "planned community" environment.
To learn more about Breakfast Point residences available from Huff Homes visit or http://www.HuffHomes.net/Explore-Breakfast-Point. For additional information, contact Randall Fisher at 850.960.3988 or by email at Rfisher1965(at)gmail(dot)com. Site Plan, Floor Plans and Pricing can be found at http://www.huffhomes.net/breakfast-point-panama-city
###