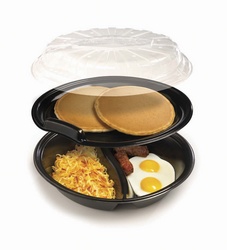 With Denny's B-FST 2GO in our proprietary Dome, consumers don't have to settle for fast food in clamshells or wrappers anymore
SPARTANBURG, S.C. (PRWEB) July 9, 2008
More than half of time pressed Americans eat their meals on the go, but are forced to choose fast food because of busy lifestyles and time constraints. Denny's B-FST 2GO caters to those consumers, but they now will be able to have a real and complete breakfast that travels well. Whether they're looking for a quick pancake pitstop, or any Denny's meal that won't wilt, Denny's 2GO packaging protects and delivers straight-off-the-griddle quality.
"With Denny's B-FST 2GO in our proprietary Dome, consumers don't have to settle for fast food in clamshells or wrappers anymore," says Mark Chmiel, Executive Vice President and Chief Marketing and Innovation Officer. "We know that Americans love breakfast….all day long…. but it has not been an easy meal to carry out. Who wants cold eggs, a soggy biscuit in a wrapper or wilted pancakes from fast-food restaurants? We know that the demand for our signature real fresh breakfast is there. The challenge has been perfecting the portability factor that our competitors haven't been able to do. Our proprietary Dome positions us for a homerun."
The innovative "Denny's Dome" packaging is custom-designed to allow made-to-order meals to travel well and stay hot and fresh. Denny's is known for generous portions at great values and classic breakfast combinations like the Grand Slam® or Country Fried Steak & Eggs. The dome is designed to carry a full breakfast….pancakes, sunny-side up eggs, hash browns, or any other Denny's meal, in one container while maintaining overall quality. The base of the Dome is divided into a ventilated area to keep crispy foods like hash browns, french fries and bacon crisp, and a closed area to keep moist foods like eggs and sausage, moist. On top of the base, an insert plate holds French toast or pancakes in an ideal environment, while sealing in the foods below it. Topping it off, a clear lid allows customers to see their order at a glance.
Denny's has developed a new B-FST 2GO menu. B-FST 2GO is offered in all Denny's restaurants. The 2GO program is being supported through national television advertising tags, in-store merchandising and on Denny's web site. Visit http://www.dennys.com for a list of locations and ask for your order to go.
About Denny's
Denny's (NASDAQ: DENN) is America's largest full-service family restaurant chain, with more than 1,500 locations. For more than 50 years, Denny's has been serving up real breakfast 24/7. Home of the famous Grand Slam® breakfasts, Denny's provides a variety of flavorful food and beverage choices. For more information on Denny's, please visit http://www.dennys.com.
MULTIMEDIA GALLERY http://www.businesswire.com/cgi-bin/mmg.cgi?eid=5726948