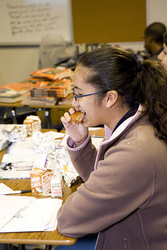 We want our students to start the day with their focus on school work -- and not on empty stomachs
Philadelphia (Vocus) March 1, 2010
As many as 35 percent of U.S. school children skip breakfast, a problem that medical experts say is contributing to our nation's childhood obesity crisis. ARAMARK, a leading provider of food and nutrition services to more than 3,000 K-12 schools across the country, is helping its school district partners offer breakfast through innovative programs, including breakfast in the classroom, breakfast in the cafeteria, and portable breakfast delivery options.
"Breakfast helps jump-start a child's metabolism and mind," said Dennis Maple, President of ARAMARK Education. "As part of ARAMARK's commitment to support First Lady Michelle Obama's childhood obesity campaign, we are actively working with our school district partners to ensure students have access to nutritious meals at school. Several school administrators report seeing an increase in student attendance, behavior and classroom performance after they started offering breakfast at school."
According to Dr. Karen Cullen, associate professor of pediatrics at the USDA/ARS Children's Nutrition Research Center at Baylor College of Medicine, a balanced breakfast gets students off to a good start in the morning, is part of a healthy diet and helps maintain a healthy body weight. "Unfortunately, up to 35 percent of children of all ages skip breakfast, for a variety of reasons, often economic," she said.
Studies by the Food Research Action Center (FRAC) have shown that children who skip breakfast are more likely to over-eat later in the day, make less healthy food choices and often end up storing more fat than non-breakfast eaters.
In addition to the link between not eating breakfast and childhood obesity, a study conducted by Harvard University and Massachusetts General Hospital found that children who ate breakfast in school had fewer absences, higher math grades, and fewer incidences of problems like depression, anxiety, and hyperactivity.
As part of USDA's National School Breakfast Program, all schools, private or public, are eligible to receive federal funds for every breakfast served. During the 2008-09 school year, only about 47 percent of eligible children participated in the Program, leaving over $500 million in federal funding on the table.
In celebration of the School Nutrition Association's ''National School Breakfast Week,'' March 8-12, 2010, ARAMARK is recognizing several of its school district partners who have successfully implemented or expanded their breakfast programs this year.
Houston Independent School District (HISD)
ARAMARK recently partnered with Houston Independent School District (HISD) to develop ''First Class Breakfast,'' providing students with a free, convenient, and nutritious breakfast, delivered right to the classroom door shortly before the bell rings. When completely implemented, the program will be the largest of its kind in the nation¹, serving breakfast to 130,000 students each day at 220 schools.
"We want our students to start the day with their focus on school work -- and not on empty stomachs," said Dr. Terry B. Grier, Superintendent of Schools, Houston Independent School District. "The feedback from students, teachers and parents about 'First Class Breakfast' has been very positive, and we have seen significant gains in test scores at schools where we have been offering breakfast."
Lansing School District (MI)
Lansing School District and ARAMARK are now offering free breakfast to all students in the District through breakfast in the classroom and universal breakfast programs. More than 6,700 students are having breakfast at school each day, and many of the schools have seen an increase in student attendance and classroom performance since the program started.
Lorain City Schools (OH)
Lorain City Schools has been recognized by the Children's Hunger Alliance with the ''School Breakfast Program of the Year'' award for providing a setting that enables all children to learn. Through a combination of breakfast in the classroom, grab and go breakfast and breakfast in the cafeteria, Lorain City Schools and ARAMARK serve breakfast to almost 5,000 children and over 70 percent of its low-income students each day. This is the second highest percentage of Ohio's "Urban 21" school districts.
Mequon-Thiensville School District (WI)
Mequon-Thiensville School District was named a winner in the Wisconsin School Breakfast Challenge, sponsored by the Wisconsin Department of Public Instruction (WDPI). The challenge encourages school districts to increase participation in their school breakfast program. Mequon-Thiensville School District increased breakfast participation by 125 percent by enhancing menus with hot and cold breakfast favorites, including egg sandwiches, yogurt, cereal, whole wheat pancakes and omelettes; opening more service lines; and marketing the program using ARAMARK's ''AMP Up! With Breakfast''² promotion.
Trenton Public School District (NJ)
Trenton Public Schools and ARAMARK are now offering universal free breakfast for the first time to all 11,000 of the District's school children, both in the cafeteria and in the classroom. ARAMARK and the District have also been working with the local community to ensure all students eligible to participate in the free and reduced price meal programs complete their applications. A ''Meal Benefit Application Drive'' luncheon was held for parents/guardians prior to the start of the school year, helping about 8,300 students enroll in the program.
"ARAMARK is proud to partner with these school districts and congratulates them on their innovative and successful breakfast programs," Maple said.
About ARAMARK Education
ARAMARK Education provides a complete range of food, facility, uniform and other support services to more than 500 K-12 school districts in the U.S. It offers public and private education institutions a family of dining and facility services including: on-site and off-site breakfast and lunch meal programs, after-school snacks, catering, nutrition education, retail design and facilities management services, including maintenance, custodial, grounds, energy management, construction management, and building commissioning. For more information on ARAMARK Education's K-12 food service programs, please visit http://www.aramarkschools.com .
About ARAMARK
ARAMARK is a leader in professional services, providing award-winning food services, facilities management, and uniform and career apparel to health care institutions, universities and school districts, stadiums and arenas, and businesses around the world. In FORTUNE magazine's 2009 list of ''World's Most Admired Companies,'' ARAMARK was ranked number one in its industry, consistently ranking since 1998 as one of the top three most admired companies in its industry as evaluated by peers and analysts. ARAMARK seeks to responsibly address issues that matter to its clients, customers, employees and communities by focusing on employee advocacy, environmental stewardship, health and wellness, and community involvement. Headquartered in Philadelphia, ARAMARK has approximately 255,000 employees serving clients in 22 countries. Learn more at the company's Web site, http://www.aramark.com , or http://www.twitter.com/aramarknews .
¹According to Food Research Action Center (FRAC).
²ARAMARK's ''AMP Up! With Breakfast'' program offers easy-to-implement breakfast delivery options for classrooms, cafeterias and/or portable stations, with a focus on convenience. It features over 400 grab and go products to build a new breakfast program menu or enhance existing breakfast offerings. Students are enjoying great-tasting, morning favorites, such as fruits, wholesome hot foods, cereals, breakfast snacks, yogurt, smoothies and juice beverages.
Editor's Note: B-roll of HISD/ARAMARK's ''First Class Breakfast'' program is available at: http://www.youtube.com/watch?v=IikdRQctCt8
###