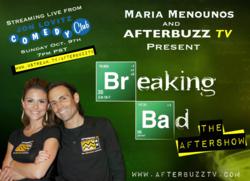 Extra's Maria Menounos and AfterBuzz TV Network to host AMC's Breaking Bad Season Finale Viewing Party, Cast Q & A and After-show live from the Jon Lovitz Comedy Club, this Sunday at Universal Citywalk, Universal City, CA.
Los Angeles, CA (PRWEB) October 07, 2011
This Sunday, October 9th, Extra Host and AMC's Breaking Bad Superfan, Maria Menounos and her new media network, AfterBuzz TV, are proud to host a Breaking Bad Season Finale Viewing Party, Cast Q & A and "after-show", live from the Jon Lovitz Comedy Club at Universal CityWalk. At the club, Menounos will join Breaking Bad cast-mates and a live audience of fellow Breaking Bad fans in watching this season's finale episode at 7pm PST. Immediately following, Menounos will host an after-show, on stage, breaking down the episode and interviewing cast members from the series. The night promises to be the most exciting and enriching means to view the highly anticipated episode.
To buy tickets, go to thejonlovitzcomedyclub.com. To view the after-show live (on Sunday Oct 9th at 8:15pm PST), go to afterbuzztv.com or ustream.tv/afterbuzztv.
The Jon Lovitz Comedy Club:
1000 Universal Studios Blvd, Los Angeles, CA (818) 824-6545
Located at Universal CityWalk, the Jon Lovitz Comedy Club, not only hosts the world's leading stand up comedians, but also the world's leading podcasts including Adam Carolla and Kevin Smith making it the world's premier venue for new media!
About AfterBuzz TV:
Created by Extra's Maria Menounos and filmmaker, Keven Undergaro, The AfterBuzz TV Network is a new media platform designated to producing live and recorded 'after-show' webcast and podcast content for TV series of all kinds. AfterBuzz TV is a veritable 'post-game' show for TV series. The network produces over 60 shows, including after-shows for such series as "Glee", "Boardwalk Empire", "Real Housewives", "Monday Night Raw", "Mad Men", "True Blood", "Keeping Up with the Kardashians", "X-Factor" and many other hit series. The net also produces after-shows for specials such as Oscars, Emmys, Grammys, etc. When fans finish watching select shows, they can go online to watch, or listen to, an after-show that features hosts breaking down that night's episode, taking calls from fans worldwide and interviewing guests such as cast members, celebrities, show runners etc. Based on Menounos and Undergaro's obsession with TV and with AMC's Breaking Bad, in particular, the AfterBuzz TV Network is a the place where fans can intimately interact after episodes of their favorite shows air. AfterBuzz shows are hosted by Menounos and Undergaro and an eclectic range of Hollywood professionals from celebrities to publicists to filmmakers to executives to choreographers to actors to WWE Divas. Their collective efforts offer rare, inside information on productions as well as provocative insight and comment. What makes AfterBuzz hosts most unique is the fact that they host merely because they're Superfans themselves.
Shows are available live and on demand via ustream.tv and, in audio, via iTunes - the latter which receives downloads worldwide. All of the above has made AfterBuzz TV the largest pure new media platform on the web. For fans who wish to maintain their "buzz", after their favorite shows have aired, the AfterBuzz TV network is the place to do so.
###