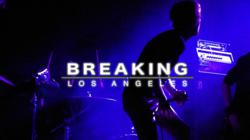 The superhighway to success has been narrowed to a one lane dirt road.
Hollywood, CA (PRWEB) September 06, 2012
Breaking: Los Angeles, a feature-length documentary scheduled to release in early 2013, chronicles the struggles facing unsigned bands in LA's contemporary rock music scene including "pay-to-play" bookings, limitations of the do-it-yourself ethos, effects of music piracy, and the need for inventive revenue generation. The film features the insights and wisdom of top industry professionals, including Grammy-winners David Kershenbaum, Gavin Lurssen, Warren Riker, Michael Rosenblatt, Michael Howe, and Michael Steele with the experiences of unsigned bands and long-time musicians, including Joe Cardamone of The Icarus Line, Gram Rabbit, and Jim Wilson formerly of the Rollins Bands and currently of the Daniel Lanois led band Black Dub.
Filmmakers Joe Brocato and Yale Chiang started the project in late 2009 as newcomers to the Los Angeles independent rock music scene. "We set out to find out what it is like to be an unsigned band in Los Angeles trying to build a career in an industry in flux," says Joe Brocato, founder of Unlikely Hero Productions, an independent motion picture production company based in Los Angeles, CA. Over the next two-and-a-half years, the documentarians filmed nearly a hundred bands in L.A. while interviewing more than 40 subject matter experts in essentially every key industry position in the business.
"Much like musicians trying to break into the business, we assumed that these high profile professionals would be extremely difficult to reach, but what we found was just the opposite," says Chiang. The filmmakers were able to secure inside access to some of the most accomplished professionals in the industry. "As the interviews continued to pile up, we realized that the barriers to entry in the rock music world have been dismantled to the point where almost everyone is open to exploring new opportunities," says Brocato and Chiang. The corporatization of radio and the major labels over the past decade along with illegal file-sharing have decreased revenues to the point where "the industry's superhighway to success has been narrowed to a one lane dirt road," says Brocato.
By mid-2011, the DIY filmmakers began working with Ryan Kuper who served as an integral part of the visioning process and furthered Brocato and Chiang's ability to present a candid depiction of the challenges and dilemmas musicians confront while trying to break into the famed L.A. recording industry. "It had historically been difficult for bands to achieve real success independently, but advances in technology radically changed that," says Kuper.
The filmmakers found that while the L.A. contemporary music scene continues to be filled with plenty of biases about who and what is important, many bands have freed themselves from those prejudices to explore their craft and get back to making innovative music. "Major recording companies continue to homogenize music by marketing bands that are sonically akin to those already seeing significant sales. For years it seemed like these majors offered the only paths to success, but now many artists are achieving their goals while doing their own thing," says Kuper.
Breaking: Los Angeles is intended to be entertaining for all audiences, but should serve as an exceptionally useful guide for unsigned bands and for any artist considering a move to Los Angeles. Breaking: Los Angeles will leave you wondering if creative brilliance can survive the conflicting pressures of raw capitalism, do-it-yourself production and distribution, and rampant file-sharing. For more information, visit http://www.breakinglosangeles.com.