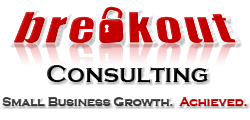 We have a developed, refined and documented process that ensures measureable results. Our business coaching and consulting is more than just a "chat" about challenges in your business.
(PRWEB) January 15, 2013
Breakout Consulting, a leading small business coaching and consulting firm based in Dearborn, MI is offering new clients a free initial coaching session. The content of the session is client directed, and business owners come away with significant insights and actual strategies for solving business challenges and capitalizing on opportunities - whether they engage Breakout Consulting for continuing services or not.
The complimentary session is offered to new clients only.
Additional details can be found on their website or by calling 313-757-1425.
About Breakout Consulting:
Breakout Consulting, LLC was founded in 2000 by Michael P. Berry, a seasoned business professional who has been involved at various levels of ownership and management in 23 different private and franchise brands. Coaching and consulting services focus on all aspects of business improvement including marketing, sales, profitability, growth, hiring, training, planning, policies and procedures for start-ups and small to medium sized businesses. Prospective clients are offered a complimentary initial consultation and receive a customized 12-point growth plan free of charge.