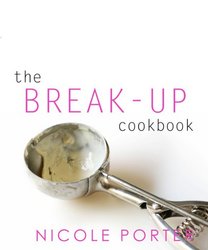 What you can do is share a laugh with friends over a slice of Knock 'em Dead Flourless Chocolate Cake then try to resist any urge you have to melt his prized Beatles vinyl into a pretzel bowl
New York, NY (PRWEB) September 14, 2010
Popular blogs like Perez Hilton and TMZ are awash with the latest news of celebrity breakups and make ups from stars like Kim Kardashian, Jessica Simpson, and Jennifer Anniston. These stories are popular because there are millions of "regular" people who have seen at least one of their romantic relationships crash and burn.
"Breakup stories from regular people are by far the most interesting," says "The Break-up Cookbook" author Nicole Porter, "It's horrifying and hilarious all at the same time. One woman dated a man for two years before he said, 'I'd love to marry you, but I'm afraid that after I did I'd find someone better and that wouldn't be fair to you.'"
Part comfort food cookbook, part breakup guide, "The Break-up Cookbook: Recipes for Singles Who Aren't Getting Any ... Anymore" is a pithy ode to every heart broken single who ever tried to cure a broken heart with a dish of ice cream or secretly plotted revenge. "There's nothing wrong with wanting to punch your douche bag ex in the face. Just don't do it." jokes Nicole Porter. "But what you can do is share a laugh with friends over a slice of Knock 'em Dead Flourless Chocolate Cake then try to resist any urge you have to melt his prized Beatles vinyl into pretzel bowl."
 
"The Break-up Cookbook" is not your mother's cookbook. Described as the Ladies Home Journal meets "The Anarchist's Cookbook," "The Break-up Cookbook" lets readers embrace some of their baser human instincts--to maim, destroy, and devour. In addition to featuring more than 150 of the greasiest, sweetest, and most decadent recipes, "The Break-up Cookbook" is chock full of fun features, revenge-worthy crafts, outrageous mad-libs, and new and interesting ways to tell your ex to "kick rocks." "The Break-Up Cookbook" is your snarky best friend with the best advice for picking up and moving on.
 
Homegrown recipes in "The Break-up Cookbook" include Guinness Brownies, No Banana (I'm a Lady) Pudding, Knock 'em Dead Flourless Chocolate Cake, Beet Red Velvet Cake, Lip Smack'n Mac n' Cheese, Cola Spare Ribs, Cheatin' Batter Fried Onion Rings, Southern-Style Crab Cakes, Baked Potato Pizza, He's a Chicken Salad Melt and more.
 
About the Book
The official release date for "The Break-Up Cookbook" (Nickel & Dime Press) is September 19, 2010 to mark National Singles Week. For further information, contact Marjan Dean at press [at] thebreakupcookbook.com or (917) 484-0677. The price is $24.95 plus $4.90 shipping/handling. For more details and to order, visit thebreakupcookbook.com/.
About the Author
Nicole Porter is the author of "The Break-up Cookbook," a comical collection of comfort food recipes for singles who aren't getting any ... anymore. Nicole has a bachelor's degree from the University of Minnesota and believes in the healing properties of comfort food and dance breaks. She has published several celebrity interviews in The Hollywood Reporter, Back Stage West, and the Chicago Sun-Times. Periodically single, Nicole is a freelance writer living in New York City with her laptop, sewing machine, and a charmingly "wicked" sense of humor. "The Break-up Cookbook" is her first book.
The Break-up Cookbook
Nicole Porter
224 pages, 8x10" soft cover
Full color with photos and illustrations
ISBN-13: 978-0-615-37297-6
###