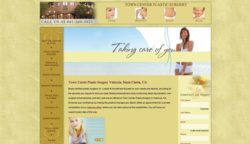 Antelope Valley, CA (PRWEB) January 05, 2012
Plastic surgeon Dr. Marc Lussier says he has seen a noticeable increase in breast augmentation in Antelope Valley, a fact mirrored by the American Society for Aesthetic Plastic Surgery (ASAPS). In its latest survey, ASAPS reported that there were over 318,000 breast augmentation procedures performed in 2010. Total cosmetic surgical procedures were counted at over 1.6 million, a 9% increase since 2009. Dr. Lussier says the rise in plastic surgery procedures performed, particularly breast augmentation, is likely due to the rise in approval of cosmetic enhancement, now at 51% of the American population, according to ASAPS. Dr. Lussier also adds that patients are beginning to take advantage of recent developments in plastic surgery technology as the economy shows signs of recovery. As new innovations, such as breast augmentation surgery techniques and implant options emerge in the field, he says plastic surgery will only continue to grow in popularity.
Of the 318,123 breast augmentation procedures performed last year, the ASAPS study reports that 62% of patients elected silicone implants rather than saline. Dr. Lussier says many of his patients seeking breast implants in Antelope Valley are opting for silicone because they offer a more natural look and feel than their saline counterparts. Dr. Lussier says the natural feel of silicone implants has also contributed to the overall growth in breast augmentation and other plastic surgery procedures.
However, as these procedures continue to become more popular, Dr. Lussier adds that patients must be sure to research extensively and consult with an experienced surgeon to find the best option for their individual needs. He says regardless of whether patients are seeking breast augmentation or a tummy tuck in Antelope Valley, plastic surgery demands a strict adherence to quality and ethics, backed by the experience of a board-certified plastic surgeon.
About Marc Lussier, MD
Dr. Marc Lussier received his undergraduate education from Carleton College, his Masters degree in Physiology and Biochemistry from the University of Minnesota Graduate School, and his medical degree from the University of Minnesota School of Medicine. He completed his general surgery training at the New York University Medical Center and his plastic surgery residency at Baylor College of Medicine. Dr. Lussier also completed a Hand Microsurgery Fellowship at the University of Southern California and a Post-Doctoral Research Fellowship at the University of Southern California School of Medicine. He is a Diplomat of the American Board of Plastic Surgery and a member of the American Society of Plastic Surgeons, the American Society of Aesthetic Plastic Surgery, and several other professional groups.
Located at 24510 Town Center Drive, Suite 180 in Valencia, CA, Dr. Lussier's practice can be reached at (661) 260-3021. It can also be contacted online via the website lussiermd.com or facebook.com/lussiermd.
###