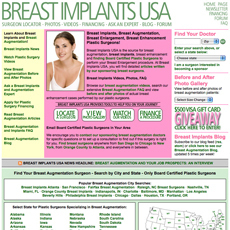 We have a committed team of writers who show enthusiasm, curiosity and diligence in reporting their stories
Culver City, CA (PRWEB) September 3, 2009
Breast Implants USA, leader in breast augmentation information and the source for finding Board Certified Breast Surgeons, has launched a comprehensive news service featuring original journalism from a team of writers dedicated to tracking plastic surgery-related stories in the press. Often featuring quotes from and interviews with Board Certified Plastic Surgeons, the stories at Breast Implants USA News attempt to dig deeper than the headlines and provide illuminating points of view on subjects concerning women, plastic surgery and well-being.
In an effort to bring multiple points of view to subjects in the media, Breast Implants USA News also features in-depth interviews with women who have strong connections to the cosmetic enhancement aspects of the stories.
"We have a committed team of writers who show enthusiasm, curiosity and diligence in reporting their stories," says David Phillips, CEO of NKP Medical Marketing, parent company of Breast Implants USA. "Their first stories -- regarding the murder of model Jasmine Fiore and the identification of her body by the serial number on her breast implants -- showed both depth and imagination, leading the editors to feature links to such organizations as the National Coalition Against Domestic Violence."
"The team is aiming to make a difference, and I feel they have succeeded from the very beginning," concludes Phillips.
The breast augmentation news contributors rely upon the articles and writings of the Board Certified Plastic Surgeons of Breast Implants USA when citing facts and researching their stories. "As Board Certified Plastic Surgeons, our member surgeons are among the most highly-trained cosmetic surgery specialists in the United States," Phillips states. "We feel there is no better resource for plastic surgery information than from this collection of Breast Augmentation experts."
All stories from Breast Implants USA News end with a reminder to readers that the best way to get answers to their particular plastic surgery questions is to consult with a Board Certified Plastic Surgeon. "We provide tools to help women contact prospective surgeons, and we always stress that there is no substitute for a personal visit as far as receiving proper, personalized care," says Phillips.
Breast Implants USA News promotes the idea that informed patients and highly-trained and qualified surgeons can lead to better outcomes. Visit Breast Implants USA News at http://www.breastimplantsusa.com/breast-augmentation/news/ for the latest information.
About Breast Implants USA:
BreastImplantsUSA.com provides women seeking information about breast augmentation, saline and silicone breast implants, board certified plastic surgeons and breast enhancement procedures a wealth of information through plastic surgery videos, interviews with surgeons, articles, before and after photo galleries, access to financing and more. To learn more about Breast Implants USA, contact David Phillips or visit breastimplantsusa.com.
NKP Medical Marketing, Inc., specializes in Medical Website Development. Information regarding NKP Medical Marketing's services is available from David Phillips or by visiting nkpmedical.com.
###