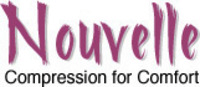 We are very diligent in ensuring our stock reflects the upward trend in cosmetic surgical procedures.
Virginia Beach, VA (PRWEB) June 29, 2011
Nouvelle, Inc. is pleased to report an overall surge in 1st and 2nd quarter sales of its high-end compression wear products, mirroring recent statistics released by the American Society of Plastic Surgeons (ASPS) indicating increases in plastic surgery procedures.
ASPS statistics also reveal a startling rise in the number of women getting three popular 'mommy makeover' procedures in 2010 following pregnancy and childbirth:
1. Tummy tucks-112,000-up 85 percent since 2000
2. Breast lifts-90,000-up 70 percent since 2000
3. Breast augmentations-296,000-up 39 percent since 2000
"While national sales are holding steady with moderate increases, it is interesting to note that some of our largest orders since January have been from international medical supply distributors," said Dawn Cover, president of Nouvelle, Inc.
Nouvelle's design team is considering a host of new offerings to its selection of high-quality post-surgical supplies, with some exciting new products to be announced next month. "We are very diligent in ensuring our stock reflects the upward trend in cosmetic surgical procedures," said Cover. "We currently provide virtually any garment one would need following a cosmetic, reconstructive, or plastic surgery. Our team is committed to designing and manufacturing products in lockstep with the latest medical technology. Recent catalog additions include:
Nouvelle bundled its finest 1st and 2nd stage garments so they can be purchased as cost-effective sets rather than separately. Each set includes:
1st Stage Healing Garment: Worn immediately post-op and up to six weeks following surgery. Generally, garments used during this period are designed for ultimate ease-of-use with maximum compression levels, convenient zippers and safe closures.
2nd Stage Healing Garment: Phased in at four to six weeks after surgery. Garments worn at this stage use slightly less-constrictive fabric and no zippers. Each pull-on design is lightweight, easy to wear, and designed to enhance the smooth lines of a patient's newly transformed physique.
Common procedures for which 1st and 2nd stage compression sets are purchased include tummy tuck (abdominoplasty), hernia operations, and a variety of liposuction procedures: hip liposuction, thigh liposuction, stomach liposuction, flank liposuction, buttock liposuction, upper thigh liposuction, lipoplasty, suction lipectomy and liposculpture.
New! Men's Abdominal Supporter
The men's abdominal supporter offers safe, supportive comfort for the abdomen and groin. Unique features include five flexible cotton/nylon panels for precise body contouring, adjustable hook-and-eye closures, and the softest fabric weave available on the market to ensure complete, healing comfort. The men's abdominal provides excellent support for hernias, groin pulls, male liposuction, male abdominoplasty (tummy tuck), lipoplasty, suction lipectomy, liposculpture, smartlipo, vaser liposuction, laser liposuction, and gastric bypass.
Nouvelle manufactures and distributes post-surgical compression wear, body shaping garments, and scar care products worldwide from its facility in Virginia Beach, Va. Its internationally-recognized products are available through approved distributors and online at http://www.nouvelleinc.com.
The company recently expanded its business and distributor base thanks to emerging markets throughout Europe and beyond. It is currently in the process of searching for even more distributors of its highly-regarded, handcrafted products.
For more information about purchasing or distributing the company's products, please contact Dawn Cover via email or telephone.
###