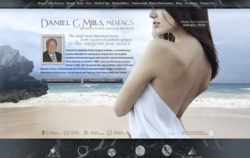 I want my patients to be happy. My patients appreciate that with a transaxillary procedure, there is no incision on the breast.
Laguna Beach, CA (PRWEB) November 09, 2011
At his Orange County plastic surgery practice, Dr. Daniel Mills has over 20 years of experience in performing transaxillary breast augmentation, a milestone recently chronicled in the Aesthetic Surgery Journal (ASJ) in an article titled, "Transaxillary Subpectoral Augmentation Mammaplasty: A Single Surgeon's 20-Year Experience," The American Society for Aesthetic Plastic Surgery (ASAPS) reports in its latest study that breast augmentation is the most popular cosmetic surgical procedure, with over 318,000 performed in 2010. Dr. Mills says at his practice he has seen similar popularity in breast augmentation amongst his patients, a large portion of which elect the transaxillary incision for their implants.
"Plastic surgeons are always looking for better surgical outcomes, decreased complication rates, and quality results, which inevitably increase patient satisfaction. My goal in publishing this paper is to demonstrate the success I have experienced with transaxillary breast augmentation through years of experience and scientific research."
Because a transaxillary breast augmentation involves an incision through the underarm, Dr. Mills says the procedure minimizes many complications that can occur at a higher rate with other types of incisions. With a transaxillary procedure, he says there is a smaller chance of losing nipple sensation because the incision is further away from the nipple, and there is less disruption of the breast ducts, which can reduce breastfeeding complications.
"I want my patients to be happy. My patients appreciate that with a transaxillary procedure, there is no incision on the breast. They can keep their decision to have breast surgery as a private matter while achieving better results with a more natural, enhanced figure."
Dr. Mills also adds that because the transaxillary procedure does not go through the breast tissue, the chance of developing a bacterial infection is reduced, which can significantly lower the possibility of developing capsular contracture. He says other advantages of the transaxillary incision, when implants are placed beneath the muscle, are the opportunity for breast eeding after surgery, clear mammogram results, and less chance for drooping later.
"Each patient is individually evaluated to determine which procedure will produce the best outcome, taking into account safety, satisfaction, preference, and comfort, which are paramount to a successful procedure. However, if my patients have a strong desire to have a particular type of procedure, I make sure that they understand the pros and cons because they have the final choice."
Dr. Mills says the transaxillary incision requires extensive surgical experience and more work from the doctor and patient, which are some of the reasons he says the 20 year milestone is so significant to him and his practice. He also adds that he hopes to continue perfecting the procedure and improving his ability to provide quality results and patient care by promoting the advancement of plastic surgery through speaking at conferences and dedicated research into new techniques and technology.
"I feel strongly that it is my privilege and obligation to share my 20+ years of experience with my fellow plastic surgeons. At the end of the day, we all gain by providing the plastic surgery experiences that provide the highest level of satisfaction to our patients. My positive experience with the transaxillary procedure will, I hope, become a tool for other plastic surgeons to provide a quality service to their patients."
About Daniel C. Mills, M.D., F.A.C.S.
Dr. Daniel Mills received his medical degree from Loma Linda University School of Medicine. He completed his general surgery requirements for residency in plastic surgery at Wright State University and his plastic surgery residency at the Medical College of Ohio, after which he completed an additional fellowship year of specialty training in aesthetic surgery in Phoenix, AZ. Dr. Mills was on the Board of Directors of the American Society of Plastic Surgeons (ASPS) for the past three years, he is currently on the Board of Directors of the American Society for Aesthetic Plastic Surgery (ASAPS); he is a board member and past president of the California Society of Plastic Surgery; and, he is the Chief of Plastic Surgery at Children's Hospital of Orange County at Mission Hospital in Mission Viejo, CA.
Located at 31852 Pacific Coast Hwy., Ste. 401, Laguna Beach, CA, Dr. Mills' practice can be contacted at (949) 681-9956. It can also be reached online via the website http://www.danmillsmd.com or facebook.com/danmillsmd.
###