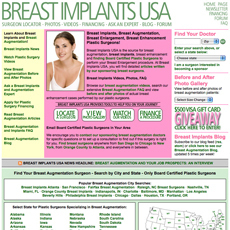 Choosing to undergo breast augmentation is a serious and important decision which is not to be taken lightly
Culver City, CA (PRWEB) October 23, 2009
At the Miss Plastic beauty pageant in Hungary -- a beauty pageant in which all the contestants had undergone plastic surgery -- a contestant was injured by her extra-large breast implants. In response to this incident, Breast Implants USA releases guidelines to be followed when selecting a surgeon in order to minimize the risk of injury and improve the odds of a positive outcome.
David Phillips, CEO of BreastImplantsUSA.com, stresses safety and the importance of educating oneself of the qualifications of prospective surgeons. "Choosing to undergo breast augmentation is a serious and important decision which is not to be taken lightly," he says, noting that, "like any other surgery, plastic surgery carries some risk. Selecting the right surgeon for the task is vital for a positive outcome."
Phillips continues, "Investigating a surgeon's credentials is an important step in the patient's process of choosing the proper surgeon for breast augmentation. There are many important reasons to choose a surgeon certified by the American Board of Plastic Surgery (ABPS). Whether seeking breast augmentation or another plastic surgery procedure such as tummy tuck, liposuction or facelift, a patient who demands ABPS certification ensures that her surgeon has the training, qualifications and experience necessary to perform plastic surgery procedures skillfully."
Plastic Surgeons certified by the American Board of Plastic Surgery have completed a minimum of five years residency training covering all areas of surgery, including two years focused solely on plastic surgery. They are also required to pass comprehensive written and oral exams.
When determining a surgeon's qualifications, patients are encouraged by Breast Implants USA to request physicians who are certified by the American Board of Plastic Surgery and who hold membership in either the American Society of Plastic Surgery or the American Society for Aesthetic Plastic Surgery. "These associations serve as sound resources for patients attempting to find the right surgeon for them," adds Phillips.
"Breast Implants USA only features surgeons who have been certified by the American Board of Plastic Surgery or the Royal College of Physicians and Surgeons of Canada," Phillips continues. "Choosing a breast augmentation surgeon certified by one of these bodies is essential. As a patient, you know that they have gone through extensive training which helps ensure your safety and desired results."
Upon using these guidelines, a prospective patient is encouraged to consult with a selection of qualified surgeons to decide the one with whom she is most comfortable.
As always, any medical decisions are best made between a patient and her surgeon. Consult with your surgeon before proceeding with any surgery.
About Breast Implants USA: BreastImplantsUSA.com provides women seeking information about breast augmentation, saline and silicone breast implants, board certified plastic surgeons and breast enhancement procedures a wealth of information through plastic surgery videos, interviews with surgeons, articles, before and after photo galleries, access to financing and more. To learn more about Breast Implants USA, contact David Phillips or visit breastimplantsusa.com.
NKP Medical Marketing, Inc., specializes in Medical Website Development. Information regarding NKP Medical Marketing's services is available from David Phillips or by visiting nkpmedical.com.
# # #