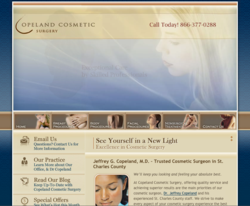 St. Louis, MO (PRWEB) July 06, 2011
The latest study from the American Society for Aesthetic Plastic Surgery (ASAPS) reports more than 318,000 breast augmentation procedures were performed in 2010, making it the most performed procedure during that time. Of this total, 62% of the procedures utilized silicone breast implants, while 38% used saline. Dr. Jeffrey Copeland discusses the two types of implants, and how he educates patients regarding the difference in aesthetic appearance as they consider plastic surgery in St. Louis.
Whether he is performing a breast augmentation, breast lift, or liposuction, Dr. Copeland says he focuses on patient education regarding the approach, process, recovery, and results of every procedure to ensure his patients' expectations are well developed. When his patients consider breast augmentation, he stresses the choice between saline and silicone implants relies on a patient's aesthetic preference and cosmetic enhancement goals, which are as unique as each patient and procedure he performs. However, there are traditional concerns associated with each type of implant, which Dr. Copeland says he addresses during the consultation process.
Dr. Copeland says patients considering breast augmentation in St. Louis typically express two concerns regarding the type of implant: the safety of silicone implants, and the natural appearance of saline implants. He adds that he addresses patient anxiety first, reassuring patients of the safety of silicone implants following years of testing conducted by the FDA. When it comes to the aesthetic appearance, Dr. Copeland says he does his best to present all the facts, supported by before-and after photos, to allow his patients to make a decision they are comfortable with based on their individual aesthetic preference. The main difference between implants, Dr. Copeland says, is the gel component of silicone implants, which more closely resembles the look and feel of natural breast tissue.
Ultimately, Dr. Copeland says he strongly believes in the importance of patient education, as it further enhances his ability to meet his patients' expectations. He adds that discussing the entire process, as well as each patient's aesthetic enhancement goals, is the first step in maintaining safety, achieving patient satisfaction, and providing effective treatment.
About Jeffrey G. Copeland, MD
Dr. Jeffrey Copeland earned his medical degree from the University of Missouri, Columbia, which is where he also completed his general and plastic surgery residencies and a fellowship in microvascular surgery. He is a member of the American Society for Aesthetic Plastic Surgery, the American Society of Plastic Surgeons, and the Missouri State Medical Association.
Copeland Cosmetic Surgery is located at #2 Richmond Center Court in St. Peters, MO 63376, and can be reached at (866) 377-0288, or found online at http://www.copelandcosmeticsurgery.com or the Copeland Cosmetic Surgery Facebook page.
###