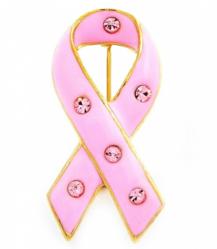 We will do our part in ensuring that The Breast Cancer Research Foundation achieves their goal in finding a cure for this terrible disease
New York, NY (PRWEB) October 06, 2011
With Breast Cancer Awareness Month looming ahead, Overstock Jeweler has decided to join the fight against the disease. Specializing in designer inspired jewelry, the online store is teaming up with The Breast Cancer Research Foundation to raise awareness about prevention and finding a cure. As a result, 10% of all the sales of their breast cancer jewelry collection will be donated to the organization from now until October 30th.
In promoting their breast cancer themed jewelry through this charity, Overstock Jeweler also hopes to provide a stylish twist to donating for a good cause. "While there are plenty of ways to take up the fight against breast cancer, we wanted to give our customers the chance to do so while embracing our fashionable breast cancer themed pieces," explains Overstock Jeweler CEO, Elena Castaneda. With the creation of a jewelry collection that offers glamour for a good cause, the online store anticipates great success for this promotion.
In addition to a percentage of every sale of pink ribbon jewelry going to charity, Overstock Jeweler is planning to match every donation. "We will do our part in ensuring that The Breast Cancer Research Foundation achieves their goal in finding a cure for this terrible disease," vows Castaneda. "After all, this is something that affects women from all walks of life and we believe that everyone has the right to life a long and full life."
As the fight against breast cancer becomes more high-profile, Overstock Jeweler sees this as an opportunity to spread the word through the sales of their pink ribbon jewelry. While their loyal clientele will be enticed by the celebrity style pieces in the collection, they will also be compelled to make a difference in many other lives. That is the ultimate goal that the jewelry website hopes to achieve in uniting breast cancer awareness with beautiful jewelry style.
###