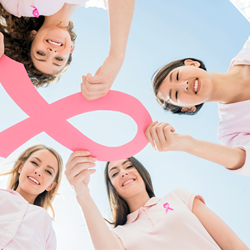 Breast cancer is one of the deadliest cancers, but it's also one of the most preventable, and our mission is to give women in our community access to real world information on breast cancer so they can protect themselves
Abilene, TX (PRWEB) October 12, 2016
The Sanders Agency, a Texas-based insurance and financial planning consultancy that provides coverage to business and residential clients in Abilene and the surrounding regions, is embarking on a charity drive to help raise awareness of breast cancer in the local community.
Breast cancer is the deadliest cancer affecting women, and remains as the second most likely cause of death for women in America. However, breast cancer is highly treatable if detected early, highlighting the importance of self-examinations. During this charity event, the Sanders Agency plans to share information on breast cancer with community residents and gather donations that will be used to research cures and treatments for cancer.
"Breast cancer is one of the deadliest cancers, but it's also one of the most preventable, and our mission is to give women in our community access to real world information on breast cancer so they can protect themselves," says Rondall Sanders, founder and acting manager of the Sanders Agency.
October is Breast Cancer Awareness Month, and the Sanders team is building an online audience by utilizing social media and email to connect with nearby residents. The team also plans to produce a full page article discussing the charity event objectives which will be published in the next edition of the firm's online magazine "Our Hometown": http://thesandersagency.com/Our-Hometown-Magazine_46.
Since the beginning of the year, the Sanders Agency has assisted several charitable causes and nonprofit organizations operating in central Texas. As members of the nation "Agents of Change" charity support program, the Sanders team plans to continue assisting even more local charities on a regular basis.
Readers that want to be part of the Breast Cancer Awareness charity event alongside the Sanders Agency team are urged to take action in support of the cause by visiting the following page: http://thesandersagency.com/Put-On-Pink-To-Put-Up-A-Fight…Against-Breast-Cancer!_9_community_cause. Additional information on the charities and nonprofits previously assisted by the Sanders Agency can be found on the company's Community Causes page: http://thesandersagency.com/community-cause.
About the Sanders Agency
As a longtime resident of the Abilene community, Rondall Sanders has built strong relationships with many local families. A knowledge and understanding of the people in Abilene has allowed the Sanders Agency to provide hundreds of local families and businesses with an outstanding level of service. The Sanders team is dedicated to helping families like yours protect the things that are important - your family, home, car and more. The Sanders Agency can also help you prepare a strategy to achieve your financial goals. To speak with a helpful representative from the Sanders Agency, visit http://thesandersagency.com/ or call (325) 675-5989.