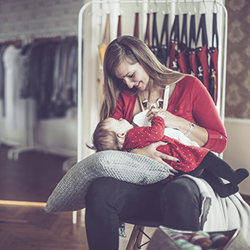 Healthy families are the foundation of any community, and this charity initiative will promote the benefits of breast feeding for mothers and children while raising funds to fight breast cancer
Green Bay, WI (PRWEB) July 11, 2016
Allcox Insurance Agency, a Wisconsin-based insurance and financial planning firm serving communities in and around the Green Bay area, is initiating a charity drive to raise awareness of breast cancer during National Breast Feeding Month this coming August.
Breast feeding plays an integral role in the health and strength of both newborn babies and their mothers in the months following pregnancy. To promote breast feeding and fight against breast cancer, the Allcox charity drive will work to raise awareness of the cause in the local community and gather donations that will be provided to the National Breast Cancer Foundation to research cures and treatments for breast cancer.
"Healthy families are the foundation of any community, and this charity initiative will promote the benefits of breast feeding for mothers and children while raising funds to fight breast cancer," says Jon Allcox, founder and manager of Allcox Insurance Agency.
To gather support and promote the cause to families and business owners in the Green Bay region, Allcox and his team have assembled an online social media portfolio and launched an email bulletin to keep community leaders informed. The Allcox team is also producing a feature article in this month's issue of the firm's online magazine "Our Hometown" that discusses the charity event: http://www.allcoxinsurancegroup.com/Our-Hometown-Magazine_39.
As recent entrants into the national "Agents of Change" movement, the Allcox Insurance team has committed to finding and assisting even more Wisconsin charities, causes, and foundations in the future, at the rate of one new charity every other month.
Readers who want to take part in the National Breast Feeding Month charity event alongside the Allcox Insurance team are invited to visit the following page and make a contribution to the effort: http://www.allcoxinsurancegroup.com/Fighting-For-Healthy-Moms-and-Healthy-Babies-In-Our-Community_15_community_cause. Readers that want to know more about other non-profit organizations that have been or will be supported by Allcox Insurance Agency can bookmark the firm's Community Causes page here: http://www.allcoxinsurancegroup.com/community-cause.
About Allcox Insurance Agency
The goal of the Allcox Insurance Group is to provide unparalleled service by offering premium quality insurance protection and knowledgeable assistance in planning and managing investments, retirement accounts, and college savings plans. With an entire staff that hails from the northeastern Wisconsin, Allcox is extremely loyal to the local community and guarantees a stress-free and gratifying experience for all clients. When you deal with Allcox, expect honesty, fairness and integrity, now and in the years to come. To speak with a helpful representative from Allcox Insurance Agency, visit http://www.allcoxinsurancegroup.com/ or call (920) 498-3630.