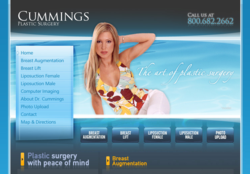 Kinston, NC (PRWEB) June 28, 2011
Dr. Richard Cummings, a board-certified plastic surgeon in North Carolina, is announcing a special for women interested in making a change to the gel breast implants known as MENTOR MemoryGel. Patients of Cummings Plastic Surgery, with saline implants that decide to upgrade to the gel implants and schedule their procedure before August 31, 2011 will receive a $250 American Express gift card once the procedure is complete.
Dr. Cummings says the MemoryGel® breast implants act more like a solid than a liquid; therefore, they retain the natural look and feel of breast tissue without compromising his patients' safety. He adds that because the implants are manufactured in a variety of sizes and profiles, he is able to create an aesthetic enhancement to match any patient's profile and desired outcome.
After more than 20 years of research and testing, the FDA approved the cohesive gel implants for use in breast enhancement procedures in women in 2006, which Dr. Cummings says was an important step forward in the field of breast augmentation. However, he also stresses the need for a consultation with a certified plastic surgeon to discuss patient-specific goals and expectations for cosmetic enhancement of this nature.
About Mentor's Feel the Difference Offer
The $250 American Express gift card will be given to patients changing from saline implants to Mentor® MemoryGel® breast implants. The procedure must be scheduled before August 31, 2011, and cards will be sent once the procedure is complete. Patients who refer a friend will also receive a $50 gift card as part of the Mentor® offer.
About Dr. Cummings
Dr. Richard Cummings earned his medical degree from the University of Miami School of Medicine. He then completed his general surgery residency at Jackson Memorial Hospital, the Miami V. A. Hospital, and Mount Sinai Medical Center. Dr. Cummings completed his plastic surgery residency at Loyola University Medical Center and Cook County Hospital. He is certified by the American Board of Plastic Surgery, and serves as the Chief of the Division of Plastic and Reconstructive Surgeons at Lenoir Memorial Hospital.
Cummings Plastic Surgery is located at 5080 Hwy. 70 West in Kinston, NC 28504, and can be reached at (800) 682-2662 or (252) 523-7082. The practice can also be found online at cummingsplastic.com or the Cummings Plastic Surgery Facebook page.
###