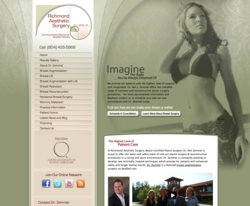 Richmond, VA (PRWEB) October 26, 2011
Dr. Neil Zemmel is announcing his use of the Keller FunnelTM for silicone gel breast augmentation at his Richmond plastic surgery practice, with the hopes of achieving smaller scars and more natural-looking results. According to a recent survey of doctors using the Keller FunnelTM, 75% reported reduced infection and nearly 70% believed it lessened patient bruising and the incidence of capsular contracture (scar tissue forming around the implant). Dr. Zemmel says the new technology can offer patients even more enhanced breast augmentation results with silicone gel implants, which were reported in the latest survey by the American Society of Plastic Surgeons (ASPS) as the preferred choice by women undergoing the procedure.
The Keller FunnelTM is a cone-shaped, nylon device with a special interior coating allowing surgeons to insert breast implants with minimal force. Dr. Zemmel says using the device offers a wide range of benefits to patients, including a package-to-breast no-touch technique, which can minimize the risk of infection; and limited local stress on the implant shell, which can preserve implant structure and shape during the procedure. He also says the Keller FunnelTM allows him to reduce incision length and provide patients with more placement options for the implant.
Dr. Zemmel says the Keller FunnelTM will further his ability to provide patients with the latest in plastic surgery techniques and technology. He adds that, ultimately, he hopes each advancement leads toward the safest and most efficient results possible and even higher levels of patient satisfaction.
About Neil J. Zemmel, MD
Dr. Neil Zemmel graduated from the College of William and Mary in Williamsburg, VA and the University of Virginia Medical School. He was selected into the 6-year combined Plastic Surgery training program at the Virginia Commonwealth University Medical Center in Richmond, where he served as Chief Resident of Plastic Surgery during his last year. He is board-certified by the American Board of Plastic Surgery and is a member of the American Society of Plastic Surgeons.
Located at 14051 St. Francis Blvd # 2209 in Midlothian, VA, Dr. Zemmel's practice can be reached at (804) 435-5866. He can also be contacted online via the website vabreastsurgery.com or facebook.com/drzemmel.
###